Receive or send your goods between the UK and the South East of Spain in less time.
If you import or export goods to or from the South East of Spain from the UK, you will have noticed how transit times and costs have increased since Brexit.
Added to these new problems are the seasonality and lack of lorries. With the added fear of your goods being held up for days at customs if they don't go through the green circuit.
For this reason, Maritima Sureste will establish from October 2021 a new international rail connection between the Barking terminal in London and Nonduermas station in Murcia, thus providing an alternative international freight transport service for UK companies that maintain trade relations with the southeast of Spain.
This new service is a milestone in the history of freight transport in the Region of Murcia, adding a more sustainable alternative, with less CO2 emissions per unit load, to the already consolidated road transport.
To know the rates of this transport or to clarify any other doubt related to this new service, you can call us or fill in our quotation form and we will contact you.
Regular international freight transport service by train with route London – Murcia
From October 2021, Maritima Sureste will establish a new rail connection between Nonduermas rail freight station (Murcia) and the London terminal in Barking (United Kingdom).
This new service represents a historic milestone in the commercial relationship between companies in the Region of Murcia and neighbouring provinces, such as Almería and Albacete, and the British Isles thanks to the combination of road and rail transport for door-to-door collection and delivery of goods.

Details of the Barking – Murcia international rail service
This new service will have a weekly frequency, departing on Mondays from both terminals and with a transit time of 4 days. In this way, exporting and importing companies will benefit from a regular transit line to boost foreign trade.
Thanks to the combination of canvas wagons and refrigerated containers, this connection is ideal for the transport of all types of goods, including medical products, perishable goods, refrigerated goods, bulk goods, construction materials, textiles, furniture and machinery.
Door-to-door multimodal
This service uses rail as the main hub for international freight transport.
Given the complexity of rail in international transport and distribution, at Maritima Sureste we offer combined rail-road transport to collect and deliver directly to the customer's premises, guaranteeing a flexible door-to-door service.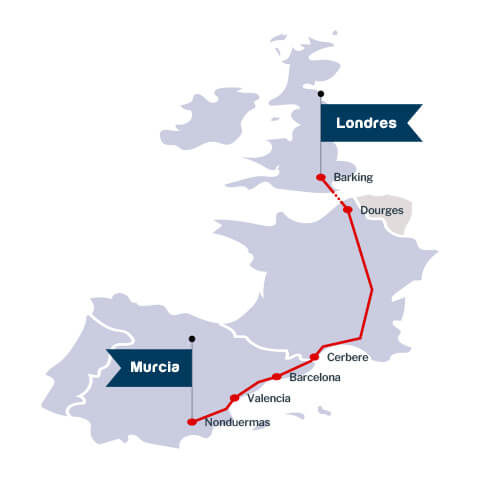 Scope of service
Thanks to the multimodal nature of the service, goods can travel from any facility in the British Isles to any point in the South East of Spain and vice versa, with no transhipment of goods and with a single service provider.
The goods would be transported by lorry both at origin and destination, from the supplier's facilities to the rail terminal. There the complete container would be transhipped, making most of the journey from London to Murcia by freight train.
We have a road support service for all products with destination or origin in the UK or Ireland.
Transport units
Goods are transported by train in both swap bodies and 45ft High-Cube Pallet-Wide refrigerated containers.
A swap body, known as a swap body, is a self-contained load-bearing structure designed for intermodal freight transport and can be towed by truck or train. They are standard throughout Europe.
These containers are transhipped between truck and train using reach stackers and a clamp system or overhead cranes, held by the undercarriage of the lower platform equipped with standardised frames.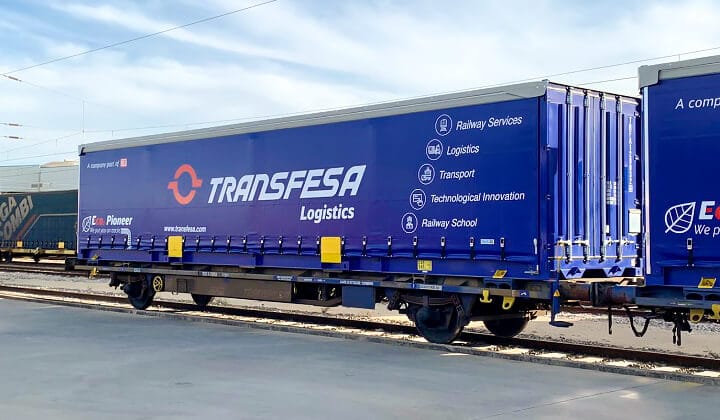 The dimensions of the swap bodies with tarpaulin side are as follows:
SWAP BODY COURTAINSIDER CLASS A
Inner length
13.595 mm
Inner width
2.480 mm
Interior height
2.540 mm
Interior volume
85,7 m³
Europallet capacity
33 units
Maximum load
24.000 kg.
Y las dimensiones del contenedor refrigerado de 45 pies son las siguientes:
45′ REEFER HCPW CONTAINER
Inner length
13.270 mm
Inner width
2.438 mm
Interior height
2.575 mm
Interior volume
83,3 m³
Europallet capacity
33 units
Maximum load
20.860 kg.
Freight railway station in Murcia
The point of origin and destination in the Region of Murcia for this service is the Nonduermas freight railway station, a location where, as an integral logistics operator, we also offer additional services such as storage of goods; transshipment, consolidation and optimisation of loads; customs clearance and customs services.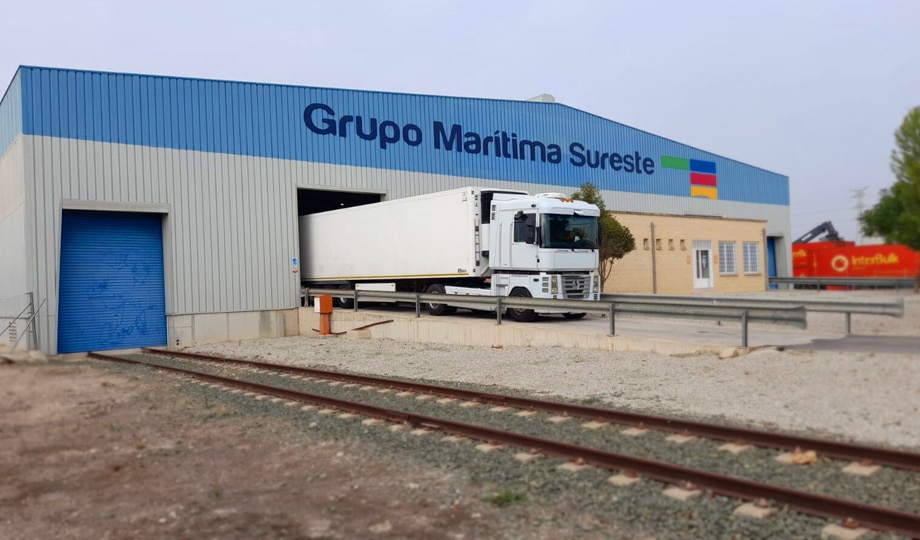 Advantages of the intermodal rail service
The advantages of the regular international rail freight service for companies in the South East of Spain that export or import products from the UK and Ireland include:
Safe transport, without transshipment of goods.
The goods are loaded at origin, at the producer's facilities, and unloaded at destination, at the receiver's location, using two modes of transport, road and rail, but without the need for transshipment of the goods.
This is due to intermodal transport and the use of refrigerated containers for the transport of perishable and frozen goods, and the use of swap bodies for other goods.
In this way, the contents inside are not manipulated, thus guaranteeing their safety.
Very competitive turnaround times
With weekly departures every Monday, in both directions, and with a transit time of 4 days, the execution times of international logistics by rail rival those of transport by truck, especially if we take into account the time required to pass through customs.
Stable budgets and rates
Compared to the large variations in freight rates for maritime transport and the large differences in truck transport prices due to the seasonal nature of exported products, rail transport prices and rates remain stable throughout the year.
Environmentally friendly
In addition to the above, the fact that rail transport is the means of transport that produces the least CO2 emissions per unit load is really beneficial both for our future and for those companies committed to preventing climate change.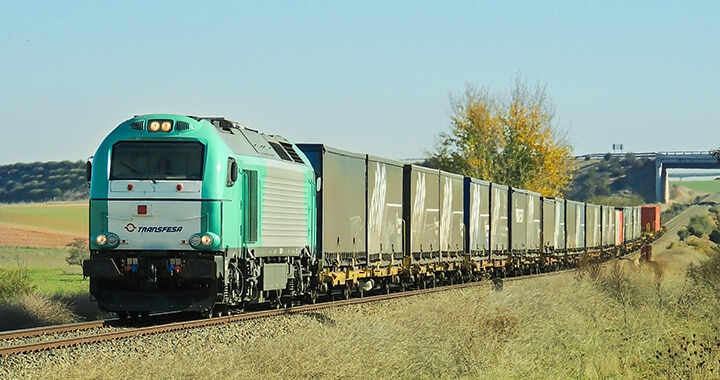 Sustainable commitment
Continuing with Maritima Sureste's commitment to promote measures to save energy and reduce CO2 emissions in freight transport, we have made a strong commitment to promote the use of rail for international freight transport.
As we have already explained in the rail transport service, this is the most sustainable and reliable means of land transport that exists, both for its low level of carbon dioxide emissions into the atmosphere per unit of freight and for its very low rate of incidents.
In addition, this alternative to road transport means a significant reduction in the number of heavy goods vehicles on the road network, with all the environmental benefits this entails.
Types of goods handled in this service
The goods train that will run on the UK – Murcia route will consist of Swap Body Boxes for dry goods and 45ft Pallet Wide High Cube refrigerated containers, so we are able to carry all types of goods and products.
In principle, the products that can be transported on this Barking – Murcia rail line are:
Refrigerated and perishable products such as:

Fruit
Vegetables
Fish and seafood
Medical and hygiene products
Meat products

Alcoholic and non-alcoholic beverages
Cars, lorries and heavy machinery.
Special and oversized loads, as long as they do not exceed the gauges.
Minerals and bulk goods.
Construction and infrastructure materials.
Chemical and pharmaceutical materials.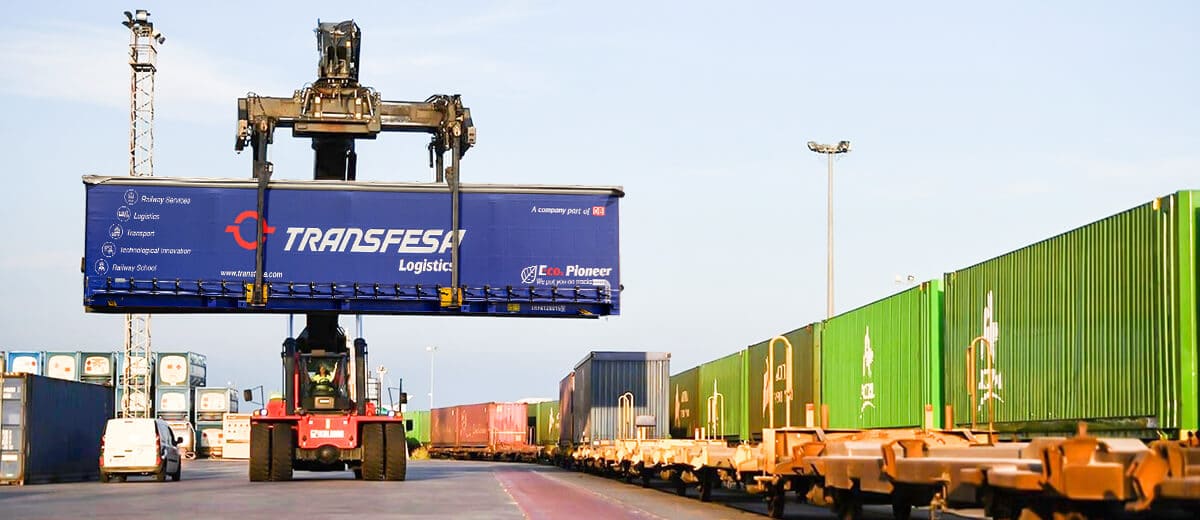 Additional logistics services
In addition to the international rail transport Spain ↔ United Kingdom, in Maritima Sureste you will find complementary logistics services for your supply chain.
For example, you can store your goods in our 10,000m² warehouse located on the same premises as the Nonduermas rail freight terminal.
Our logistics team can carry out consolidation and load optimisation work for those cases in which the goods come from several different locations.
Finally, our team of customs brokers will be able to carry out the necessary customs clearance for import and export goods.
Reception, palletising, labelling and storage of freight and goods in our warehouses & logistics facilities.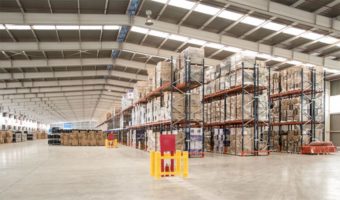 We have customs brokers ready to offer you fast and agile customs solutions and centralised clearance.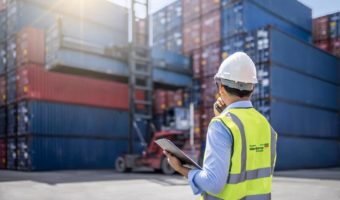 At Maritima Sureste we want to support the commercial relations that United Kingdom companies maintain with Spanish businesses, both in the export of the products they manufacture or produce, as well as in the import.
To this end, we have opened a new rail connection as an alternative to road transport, which will allow you to have a recurring shipment service every week, with a transit time of 4 days.
If you would like to get a quote to send your products from anywhere in the British Islands, to export to Spain, call us or send us a contact form.