Do you need to hire an exceptional road transport service?
The transport of exceptional loads by road is a service that requires excellent logistical coordination and exceptional care in the transfer.
Special loads are considered to be all those which, being indivisible, exceed 4 metres in height, 16.5 metres in length or 255 cm in width. This group also includes goods weighing more than 40 tons.
The movement of this type of cargo requires a specialised company that has the resources and can guarantee the service. In addition, you will need to have the specific permits to carry out the transport.
At Grupo Marítima Sureste you will find professionals with a long experience in this type of service, thus guaranteeing the success of the operation.
When you contract with us for the transport of your goods with special requirements, you are putting at your disposal a team of qualified personnel and experts in the field, not only to advise you and carry out the task correctly, but also to respond efficiently to the most complicated needs and situations.
The logistics of oversized loads, mostly belonging to the industrial sector, construction or dedicated to the infrastructure used for the renewable energy industry, requires a complete analysis and study where all factors are taken into account: type of goods, places of loading, unloading and state of the route and possible alternatives.
Although this service is normally carried out nationally by road, if the geographical conditions allow it, there is the possibility of carrying it out between two neighbouring countries.

When is it considered exceptional transport?
A transport is considered to be an exceptional cargo when it exceeds the maximum dimensions authorised by the General Vehicle Regulations, published in the Official State Gazette number 22 of 26 January 1999, both in terms of volume and mass.
The dimensional limits are:
Length of more than 16.50 m.
(18,75 m. in case of road trains).
Width of more than 2.55 metres.
Height of more than 4 metres.
Maximum authorised mass limits:
18 tons for two-axle trailers.
Three-axle trailers: 24 tons.
36 to 38 tons for four-axle trailers or road trains.
40 tons for trailers or road trains with 5 or more axles.
This number of axles refers to the sum of axles between the trailer and the motor vehicle.
Conventional lorries on the road must not exceed certain dimensions and weight limits. Once these dimensions are exceeded, we are dealing with an exceptional load transport and permits will be required to circulate.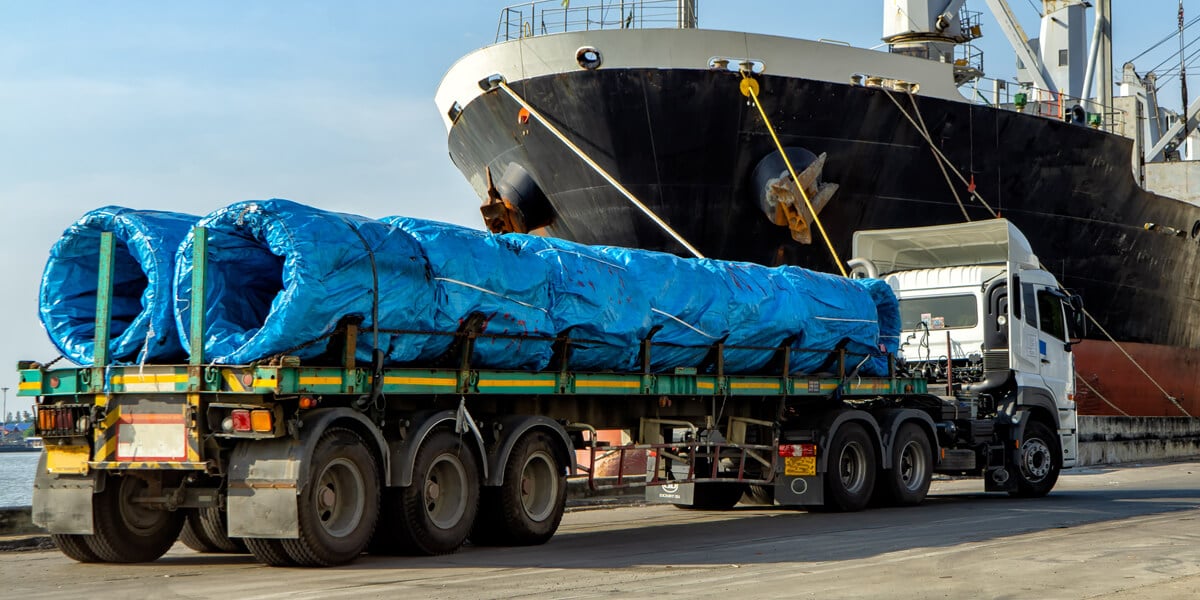 Sectors with exceptional needs
Before defining the operational needs or choosing the appropriate vehicle, it is first necessary to analyse the type of load, its dimensions, whether it can be separated and the total weight.
It is very common for many of these loads to be destined for the construction of large infrastructures in the renewables industry, which often carry windmill blades, tower segments or the electricity generators themselves.
There are also construction and infrastructure companies that need to move, for example, long concrete beams for bridge structures, or prefabricated segments for the dry construction of large offices.
If your company is in one of these sectors and has special requirements when it comes to transporting both materials and construction elements of large dimensions, do not hesitate to contact us.
Transport Permits for Exceptional Transport
In order to be able to carry out special transport in accordance with legislation, it is essential to have a permit issued by the corresponding body.
These permits are divided into 3 categories:
Generic permit for exceptional transport
The generic authorisation is issued when the cargo does not exceed the following specifications:
Total length of the whole: 20.55 metres.
Total width: 3 metres.
Total height: 4.50 metres.
Total weight of the whole: 45 tons.
Specific permit for exceptional transport
Specific load is considered to be any transport in which the merchandise exceeds in some of its dimensions those of the generic authorisation, but does not exceed the following specifications:
Total length of the whole: 40 metres.
Total width: 5 metres.
Total height: 4.70 metres.
Total weight of assembly: 110 tons.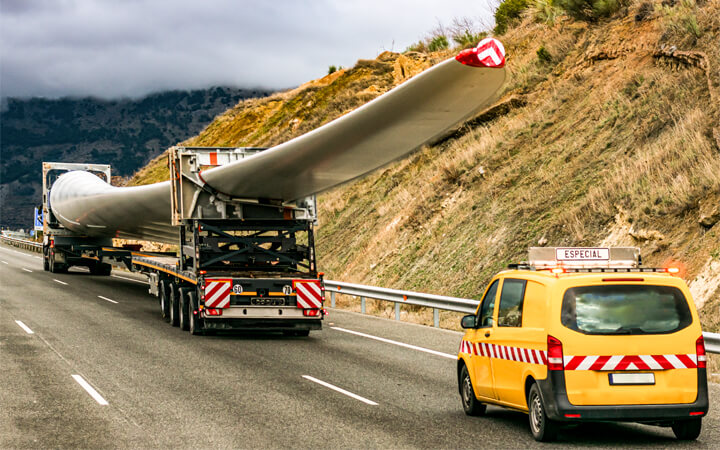 Exceptional permit for exceptional transport
This authorisation is granted when the load transported exceeds any of the dimensions of the specific authorisation.
Escort vehicle
Once the permit for exceptional road transport has been acquired, depending on the casuistry of the operation, it will be necessary for the main vehicle to be accompanied by another vehicle known as a pilot vehicle.
The accompanying pilot vehicle becomes necessary in one of three situations:
When the length of the assembly exceeds 40 metres, two pilot vehicles shall be provided, one in front and one behind, 50 metres apart.
When the speed on level ground does not reach 60 km/h on motorways or 25 km/h on conventional roads, one vehicle shall be placed 50 metres behind, provided that the width does not exceed 3 metres.
If the speed of the combination is less than half the speed of the road and the width is greater than 3.5 metres or the length is greater than 30 metres, two pilot vehicles must be placed 50 metres apart, one in front and one behind.
The police may also serve as escort for special loads with an exceptional authorisation, when the length is greater than 65 metres, when they leave less than 1.5 metres free when travelling on two-way roads or when they do not exceed a speed of 40 km/h on flat terrain.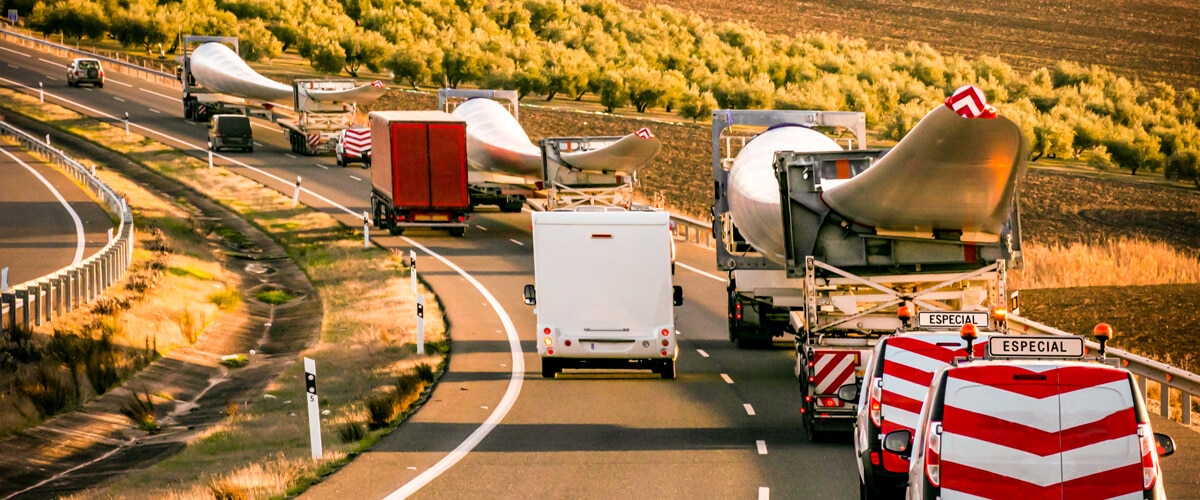 Necessary fleet for this type of transport
Which are the vehicles that we use for the transport of exceptional load? This type of transport is used when it is necessary to transport goods that exceed the maximum dimensions established by traffic regulations, either in terms of volume or weight.
For this reason, it is not possible to opt for any conventional transport method, but rather it is necessary to use specific vehicles that are better suited to this task.
The following is an overview of the most commonly used ones:
Gondola truck
The gondola truck or trailer is the most commonly used special vehicle for special loads. It can transport up to 40,000 kg or 40 tonnes. In addition, it is also possible to expand its capacity by adding an auxiliary truck variant.
Unlike other trucks, this one has a flat, smooth surface of different dimensions, without sides, on which the transported goods are placed.
In the case of a low-bed trailer, this surface is very close to the ground, providing more headroom for loading oversized items.
These trucks are ideal for transporting heavy machinery, different types of structural elements for civil infrastructure and large parts.
Crane truck
A crane truck is a vehicle that has the peculiarity of having a crane built into its chassis, allowing it to load and unload the goods from the truck itself, without the need to hire auxiliary machinery for loading and unloading, such as forklifts or cranes.
This translates into greater independence when loading and unloading, thus reducing the cost of transport and delivery time.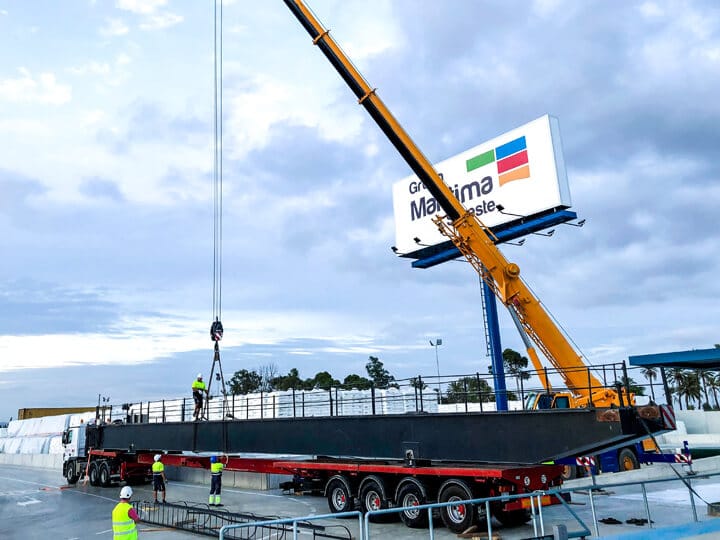 Flatbed trailer
This type of trailer is a good alternative for transporting goods in large batches, or pieces exceeding 13.60 metres in length. The length of a flatbed can be extended up to 29m and the gross weight limit (GWL) is around 50 tonnes.
They are mainly used in the construction industry for the transfer of materials.
Lift cranes
Lift cranes, on the other hand, do not have the same load-carrying capacity as a truck, but are necessary for loading and unloading goods, especially when the goods are of a high tonnage or have to be lifted several storeys.
They are indispensable when the goods are heavier than the average weight of a truck crane, which can be in the region of 10 tonnes.
Your company needs to move oversized freight by means of exceptional road transport?