Send your goods by rail. Respect the environment.
At Maritima Sureste we offer an excellent loading and transport service by train, loading the goods directly from our facilities in Nonduermas, Murcia.
Your goods will be safe during the whole transshipment process inside our logistic warehouse with railway entrance. The goods will be protected from inclement weather during this handling process, regardless of the type of cargo.
If you need efficient and environmentally friendly transport of large volumes of cargo, as well as economical compared to other means, don't forget that at Maritima Sureste we are here to serve you throughout your logistics and goods supply process.
We know how to adapt perfectly to your needs. Tell us about the operation you wish to carry out. We will give you the best solution.
What is Rail Freight Transport?
Rail transport is the shipment of goods or people by train.
This means of transport is limited to the railway infrastructures installed throughout the continent, so the routes and journeys are limited to these.
Rail infrastructures are all those physical elements through which the passenger, freight and mixed train system runs. For example, electrification and signalling installations, the tracks themselves, all safety elements, passenger transport stations and freight transport terminals.
In order for a company to use these infrastructures, called General Interest Railway Network (RFIG), the State Railway Safety Agency (AESF) must issue a licence and a safety certificate.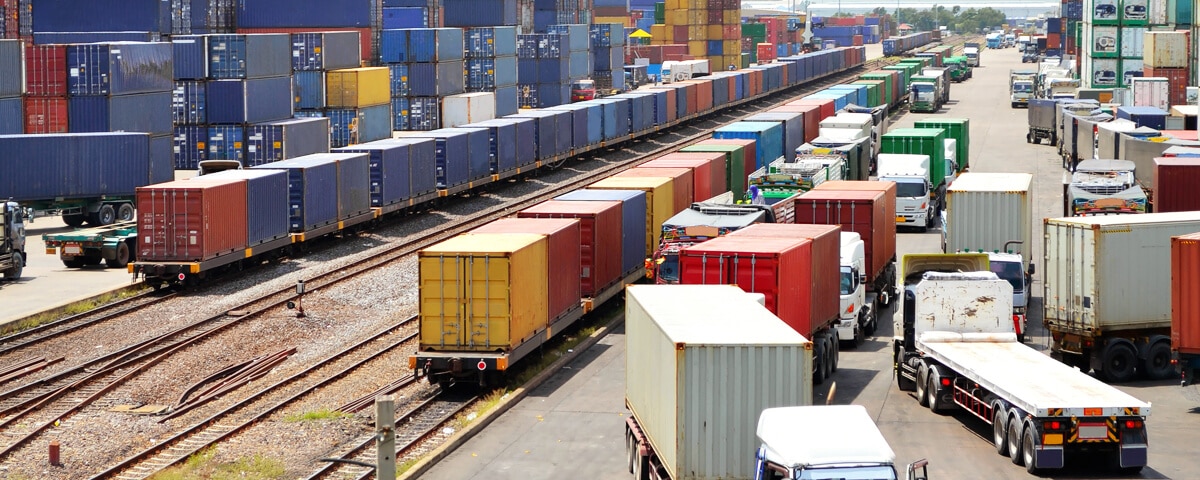 Intermodal Rail Transport
Intermodal is the combination of two or more different types of transport (air, sea, road or rail), without the need to transship the goods.
The same loading unit is used to guarantee the safety of the goods during the entire journey.
Intermodal rail transport is popular because of its various types of connections with all other modes of transport. Although it has a number of unique features, it has certain limitations such as its infrastructure or circulation in some countries.
If we take into account intermodality and connection with the other three modes of transport, we find the following combinations:
In this case the intermodal transport units (ITU) can be of two types:
Combined transport or "ferroutage": the goods travel in containers, semi-trailers or swap bodies. These travel by road on trucks and at the station they are mounted on platform wagons to go by rail.
"Piggyback traffic" is where the complete lorry is loaded together with the driver on the train on a lowered platform. This type of transport is also known as Rail-Road Transport.
At our facilities at the ADIF freight station in Murcia, we offer both intermodal transport and freight transshipment services.
Maritime – Rail Intermodal
Trains arrive at the seaport with Intermodal Transport Units. On arrival, the ITUs are loaded directly from the train and loaded onto the vessels using gantry cranes or sidelifters without the need for transshipment.
There is also the possibility to load the complete transport, i.e. truck + goods + driver, on a RO-RO horizontal or roll-on/roll-off vessel.
Intermodal Air – Rail
This is the least common of the three, as in most cases it requires road transport to transfer the goods from the airport to the goods station.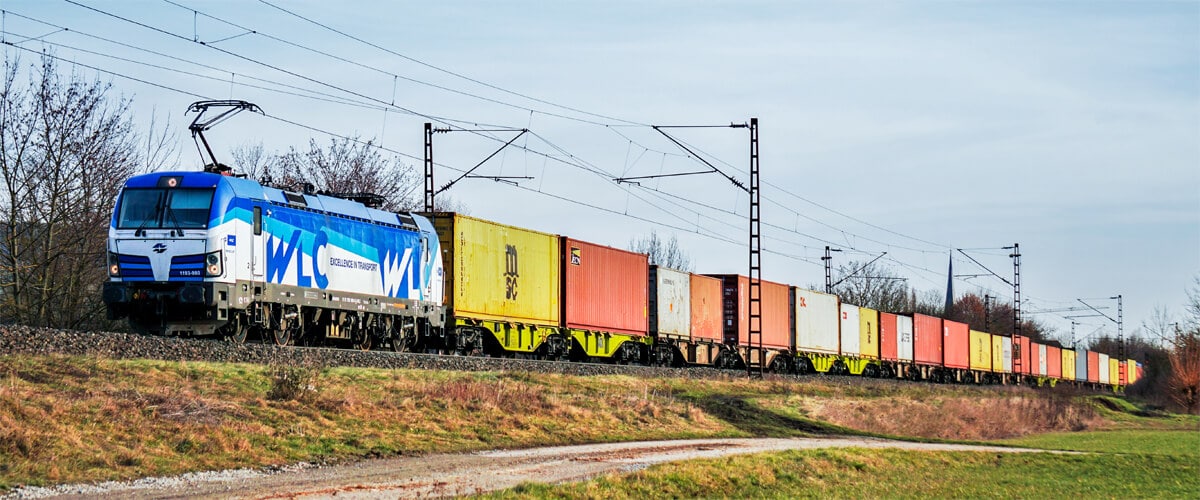 Advantages of Rail Transport
Having seen the different possibilities and combinations of transport, we are now going to mention a few advantages of rail freight transport.
Safe transport
Not to belittle other types of transport, but rail transport is characterised by its low accident rate throughout the world, practically bordering on non-existent, as it runs on single-use infrastructures and has no direct adversities that impede its journey.
It is not limited by weather conditions
Contrary to what happens with sea or air transport, inclement weather does not affect the start of the journey so much and it is very, very rare to see delays in departures for this reason.
Possibility of unloading inside the warehouse
It is not very common to see warehouses with a train entrance.
Fortunately, at Maritima Sureste we have a 10,000m² goods warehouse with two entrances for rail transport, with the possibility of unloading the goods directly without the need to transfer the ITUs to another vehicle.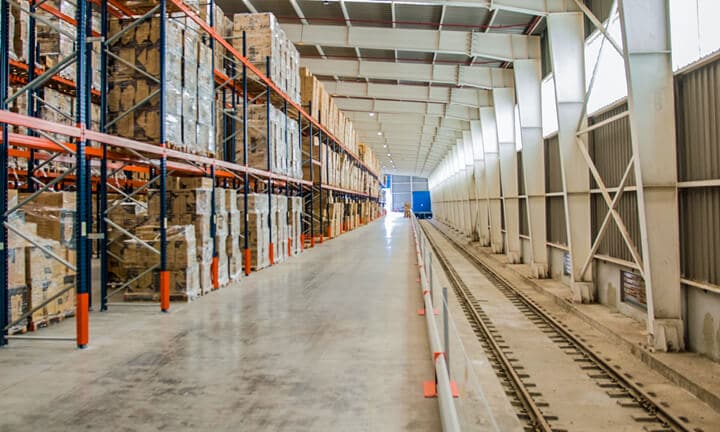 High speed
The fact that the train does not have to deal with traffic, moving on an infrastructure reserved for only a few units, makes it a transport that can maintain a high and stable speed throughout its journey.
Currently, in Europe, there are freight and mixed trains that are moving at speeds between 160 km/h and 200 km/h, but in China a goods train is being developed that will be able to reach 350 km/h, which will be a turning point for this mode of transport when it begins to be marketed.
Stable budgets and fares
As with road transport, it is very rare to see large price rises in rail transport, unlike in maritime transport, where large increases can be observed throughout the season.
Economic
Transporting goods and products by freight train is one of the best alternatives for sending products over long distances, especially on international routes, at a low cost.
Low carbon footprint
Rail is the means of transport that emits the least CO2 into the atmosphere, both per freight unit in the case of freight shipments and per passenger on commercial journeys.
A study by the European Environment Agency with data from Eurostat, the European Commission and the International Union of Railways (UIC) shows that rail transport is up to 9 times less polluting than sea or air transport per tonne-kilometre.
Possibility of carrying bulky loads
This last point does not make much difference compared to the transport of special cargo by road or Project Cargo's maritime mode, but it is worth noting that both oversized loads and large quantities of goods can be transported in a single journey.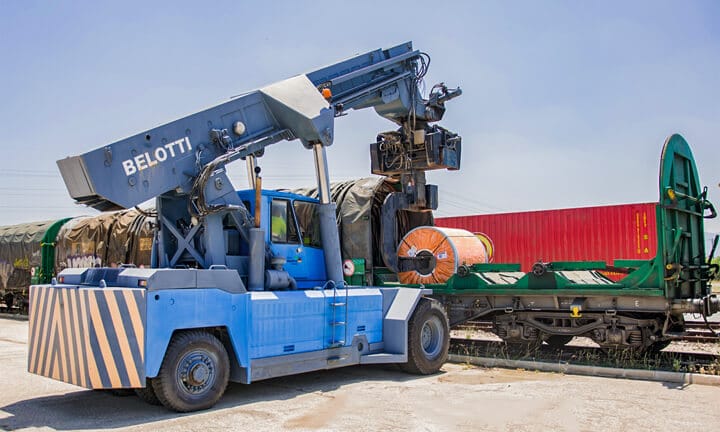 Disadvantages of rail transport
Although we are talking about one of the most advantageous methods of transport, every mode of transport has its pros and cons.
In this section we will also review the disadvantages of rail freight transport, although this does not mean rejecting this option.
Height and width restrictions
Trains are means of transport that cannot overcome great unevenness due to their great length, so the only way they can overcome geographical barriers is through tunnels.
Before entering the various tunnels there are controls that specify the maximum dimensions of the load to ensure that trains can pass safely through them. These controls are called "Railway Gauges".
In Spain, the most restrictive measurements on the rail network are 3.3m wide by 4.3m high, with a rounded roof. These measurements are sufficient, for example, to transport High Cube sea containers without any problem.
Infrastructure
As mentioned above, the goods train requires a specific infrastructure on which to move.
There are countries that do not have adequate infrastructure or it is very limited, making international transport through these countries impossible.
Need for transshipment
In the event that you need to take the cargo to a delivery point other than the warehouses located at the freight station, a different mode of transport must be used to reach the destination, and it is essential to tranship the cargo or ILUs and take it to the delivery site.
This disadvantage is common to both sea and air freight modes.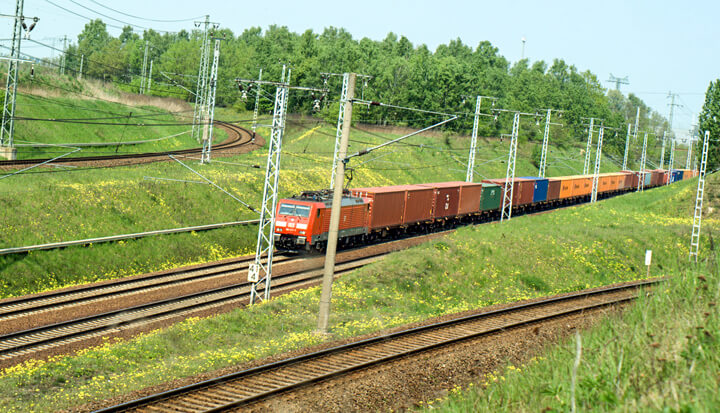 Types of rail freight cargo
The goods train has the possibility to transport all types of goods and products. Thanks to its many types of wagons and flatbeds, it can be adapted to almost any type of freight:
Special loads, as long as they do not exceed the gauges.
Minerals and bulk goods.
Cars and lorries.
Construction materials.
Infrastructures for solar or wind farms.
Commercial products in general.
Refrigerated and/or perishable goods
Chemical and pharmaceutical materials.
Dangerous goods can also be transported, as long as they comply with the conditions established in the RID: International Regulations concerning the Carriage of Dangerous Goods by Rail.
In this way, the health of the carriers, the goods, the environment and, most importantly, the well-being of the public can be guaranteed.
Rail freight transport company in United
Kingdom and Spain
If you have come this far, it is more than likely that you need to transport goods and you are studying which of the different modes of transport is the best for your operation.
International freight service by train on the Murcia - London route. Weekly departures.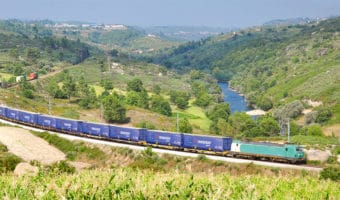 At Maritima Sureste we will help you draw up the best logistics strategy for the shipment of your products, as well as offering you the possibility of managing each of the points in your supply chain.
Our more than 44 years in the logistics sector, responding effectively to the most complex needs of our customers, makes us one of the best options for delegating your goods movements.
We look forward to talking to you.