Outsource the warehousing of goods. Reduce operating costs, improve delivery service.
In the majority of cases in which large spaces are required to store goods, the costs derived from the real estate and human resources required are not taken into account.
By outsourcing the storage of goods to a logistics operator, you pay only for the goods that are currently occupying a space, without extras for that empty space and without having to maintain salaries for handling and surveillance.
Whether you are a manufacturer or an importer, in Grupo Marítima Sureste you will find the logistics partner you need to take care of the storage of your products before serving them to your customers.
Don't worry about subcontracting warehousing and maintaining several payrolls. Pay only for the goods you move.
What does warehousing consist of in logistics terms?
The storage of goods in the logistics sector consists of the stage of the supply chain in which the goods received are collected, palletised if necessary, classified and kept stacked, distributed throughout the storage space or classified on shelves.
In the different logistics stations of Grupo Marítima Sureste you will find different spaces for the storage of goods depending on their type:
Large fields for the storage of materials in the open air.
More than 15,000 m² of warehouses with shelving and various types of machinery.
Warehouse with rail access for direct loading and unloading from the train to the warehouse
Warehouse with APQ-1 and APQ-10authorization for dangerous goods
Warehouse for sea containers and vehicles
Temporary bonded deposit for import goods
Export Bonded Warehouse
It is important to bear in mind that the storage of goods is a key part of a company's logistics, even on a par with the commercial actions themselves.
It is essential to have an agile and up-to-date storage system, as well as always having a meticulous control of the availability of stock.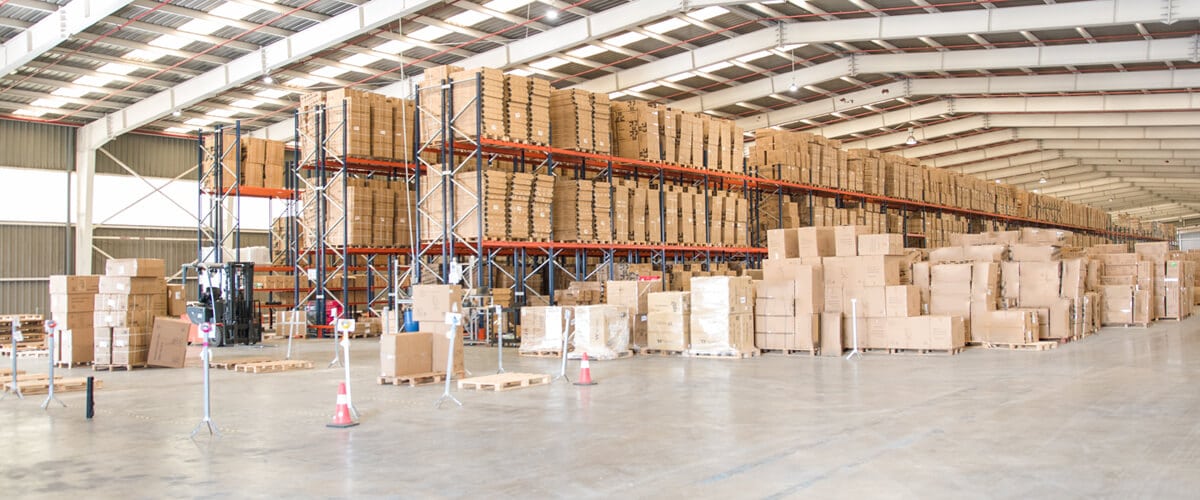 Types of storage of goods and freight available
Let's review the most appropriate storage methods for your goods:
Indoor warehouse
This is the most common type of storage. The different goods are sheltered from the weather and protected from possible damage.
This is the most common type of storage for fragile, perishable goods or goods packed in cardboard boxes.
In addition, in this type of warehouse it is possible to maintain a stable temperature, as well as its relative humidity and incident light if the goods require it.
Outdoor storage
Also known as a depot. It consists of an open-air enclosure reserved for the storage of goods and loads that can withstand climatic factors on their own.
In many cases, these goods are covered with tarpaulins to prevent rainwater from accumulating directly on top of the goods, thus preserving their integrity.
This type of space is mainly used to store construction materials, infrastructure equipment and non-perishable goods with outdoor resistant packaging, such as barrels or drums.
This kind of space is intended for importing companies to store their empty sea containers and exporters can go to the warehouse location and pick up a container for shipments.
This saves both parties resources, travel costs, time, and storage space without the need for a container storage area.
Second-hand shipping containers are also often sold and rented in these spaces.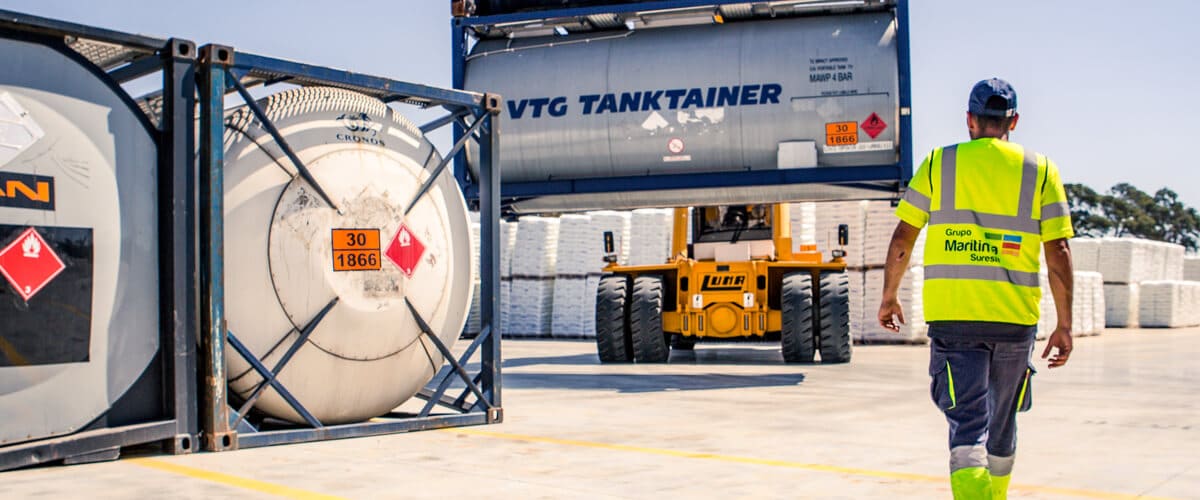 Specific APQ authorisations are required for the storage of dangerous goods.
An adapted warehouse must have, for example, raised platforms with drains or retention basins to control possible spills of these substances.
In addition, the company in charge of storage must be aware of all the regulations governing the handling of dangerous goods and have qualified and well-protected personnel for the correct handling of these materials.
Specific warehousing solutions
Our warehousing services are tailored to different industries, as each client's requirements are specific to their sector.
Whatever your logistics needs, at Grupo Marítima Sureste we provide specific warehousing solutions to meet your requirements, as well as the transport and handling services needed to complete the supply chain. Our specific warehousing facilities and capabilities are aimed at companies in the industrial sectors, construction materials, non-perishable foodstuffs, dangerous goods and general consumer products sold in e-commerce sites.
At Grupo Marítima Sureste, a company specialising in logistics and warehousing, we provide warehousing services to our customers in Spain, France, the UK and Morocco.
We also have partners all over the world so that we can adapt to the needs and products of each client to make the supply chain a success.
Value-added storage services
At Grupo Marítima Sureste we work year after year to offer you greater flexibility in terms of goods storage services, as well as multiplying our spaces and facilities so that your business can grow with us.
In addition to the storage and custody of your goods, we offer you a wide variety of complementary services:
Packing and packaging replacement
In the event that you wish to replace the packaging of your products, if you are an importer, we can take care of this task.
In this service we replace damaged packaging or add an outer cardboard box to the existing one to add your branding and improve its protection for the last mile distribution process.
Consolidation and protection
We often receive goods directly in shipping containers. To make handling easier and to store the goods properly, we place incoming goods on pallets and, if necessary, shrink-wrap the goods, protecting them with plastic film.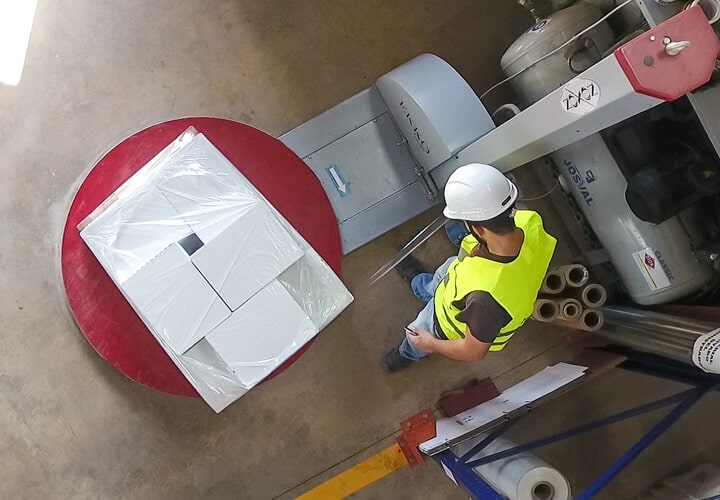 Labelling
We can also take care of the labelling of your items, identifying them with your SKU's or EAN's, incorporating your logo, your barcodes or other specific data that you consider necessary.
Freight reception
One of the most important and most frequently performed operations in a warehouse is the reception and storage of goods.
This task is of the utmost importance, as if it is managed incorrectly, it could cause a problem that would later affect both stock management and the productivity of the facility.
The key to maintaining an efficient warehouse, with reduced operational costs, is to properly organise the reception of shipments and their correct sorting and classification in the available spaces.
To do this, it is necessary to have a good understanding of the tasks involved in this process and the strategies required to improve them:
Planning and information phase
The goods receipt process starts with the proper coordination of the supply chain, informing the warehouse of the purchase or procurement management.
It is extremely important to plan the arrival of goods in order to avoid congestion at the unloading docks and to avoid saturating the team in charge of unloading the means of transport on which the goods have arrived.
Unloading phase and management of the loading docks
This part of the operation is focused on the unloading of the cargo that arrives in the lorries, sea containers or on the train, as well as its transfer to the space it will occupy inside the warehouse or its location on the shelves.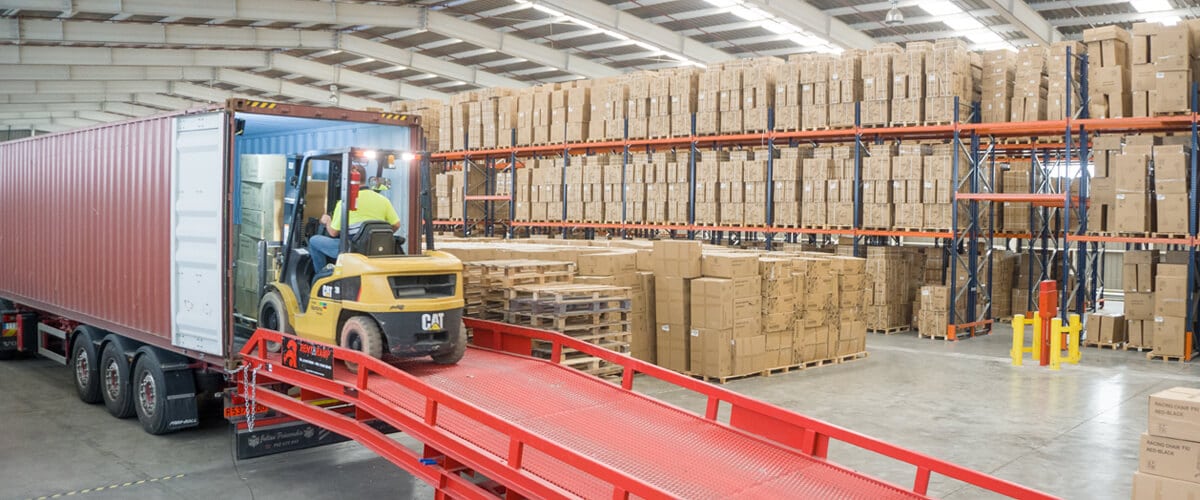 Quality control and inventory
On receiving the documentation of the goods that are going to enter the warehouse, the first step is to check the delivery notes to verify whether they match what has been agreed with the supplier. In other words, the model, quantity and specifications of the goods received must be verified.
In this phase, which is carried out in parallel to the unloading phase, the packaging of the goods received is also checked to ensure that they are in good condition.
Many of the companies we work with have their own quality control, which, after training our staff, we carry out on the goods received.
Labelling, palletising and placement of the merchandise
Throughout this goods reception process, it is essential to correctly register, identify and label the products received in order to subsequently control their location within the facilities.
It is possible that, when receiving goods, one of the following situations may occur:
If items are received without palletisation, this merchandise must be consolidated and identified before being properly placed in the warehouse.
If the load is properly organised on pallets, it will only be necessary to carry out a documentary check before transferring them to the corresponding racks.
Finally, if the incoming goods come from a return. In this case, reverse logistics management guidelines must be followed, such as checking the condition of the returned goods.
On the other hand, it is possible that material arrives for storage without being notified or at a different time than agreed. This event, in logistics, is known as blind reception and any company that stores goods must have a protocol to act efficiently without paralysing other processes.
También, el contar con un sistema de gestión de almacén o SGA ayudará a dirigir los recursos de forma efectiva ante estas situaciones inesperadas y sin interferir en el resto de actividades logísticas que se estén llevando a cabo.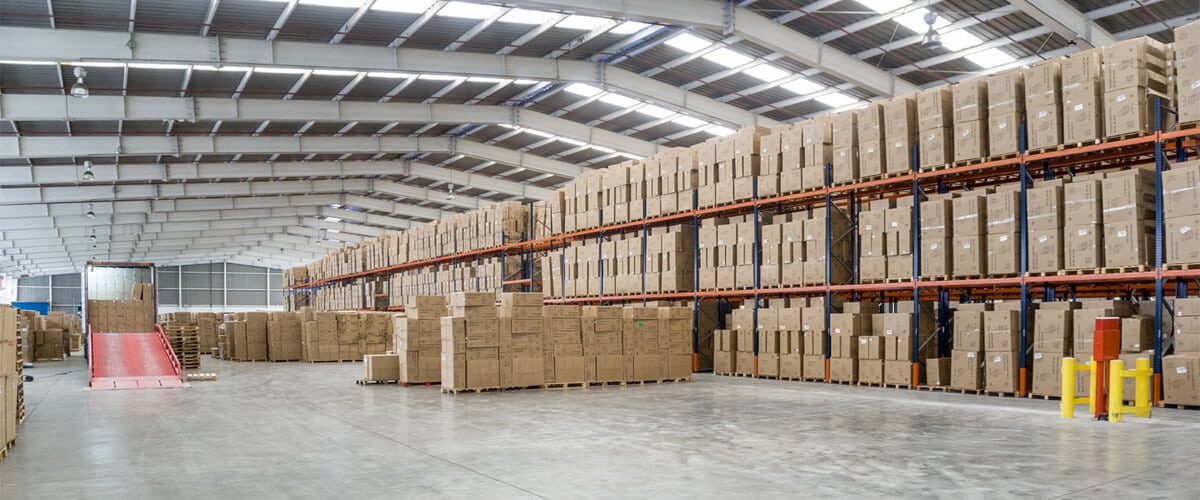 Storage methods
In general, the method chosen to store goods within a space depends on one or more conditions:
Type and nature of the goods.
Number of packages and/or pallets.
Type of packaging.
Available storage space.
Expected output.
Possibility of storing in the open air.
Based on these and other variables, the warehouse manager will decide which type of storage technique will be used:
Unit load or palletised on the floor.
The goods will be stored on pallets, normally made of wood, and depending on the volume and number of packages, they will be shrink-wrapped to prevent them from falling. These pallets are placed directly on the floor, occupying only the space reserved.
Stacked loads
If the goods to be stored are self-supporting, as in the case of bigboxes, or have sufficient strength, such as bulk bags, the goods can be stored by stacking the loads until they reach the maximum recommended height, making maximum use of the vertical storage space.
Racking
This method is ideal for storing materials and packaging of different sizes, as well as serving as a support for placing standardised pallets or crates.
To optimise picking tasks, it is necessary that the products stored on the shelves are correctly identified, with the labels clearly visible.
Racking proves to be the most economical and convenient storage medium for the storage of general goods.
Pipes and columns storage
When storing loads with a much larger dimension than the other two, special racks with arms are used so that the goods are accessible for loading and unloading.
Boxes or crates
In the case of small-sized materials, such as hardware, plumbing or stationery items, among other articles, it is recommended to store them in drawers, so that they are accessible and tidy.
The dimensions of these drawers vary depending on their intended use and, in general, they are usually made of polypropylene.
Freight warehousing services
At Grupo Marítima Sureste you will find your trusted integral logistics operator to whom you can delegate the storage of your products.
Call us or request a quote through our form.