Oversized goods and break bulk via sea freight
Do you need to export oversized freight such as metal structures or windmill fuselages?
Or are you looking to import raw materials or break bulk goods, such as anthracite, from another continent?
If these examples are similar to the situation you are dealing with, what you are looking for is a Break Bulk or Project Cargo sea freight service.
At Grupo Maritima Sureste, freight forwarders specialised in sea transport, we have a team of experienced agents with extensive knowledge in shipping special cargo, Break Bulk and Project Cargo.
Do you wish to discuss a bulk break/cargo project with us?
The logistics of international projects that require large infrastructures, such as in the renewable energy sector, demand specialised agents with a high level of knowledge in transport and a long experience in this type of operations in order to know how to act in the event of unforeseen events.
These types of logistics operations usually work with high-cost freight, and any logistical failure could jeopardise the success of the supply chain.
In order to avoid this from happening, excellent coordination between the different agents involved in the logistics chain is essential.
At Grupo Marítima Sureste we are aware of the importance of these logistical operations, as we have been carrying them out for more than 40 years.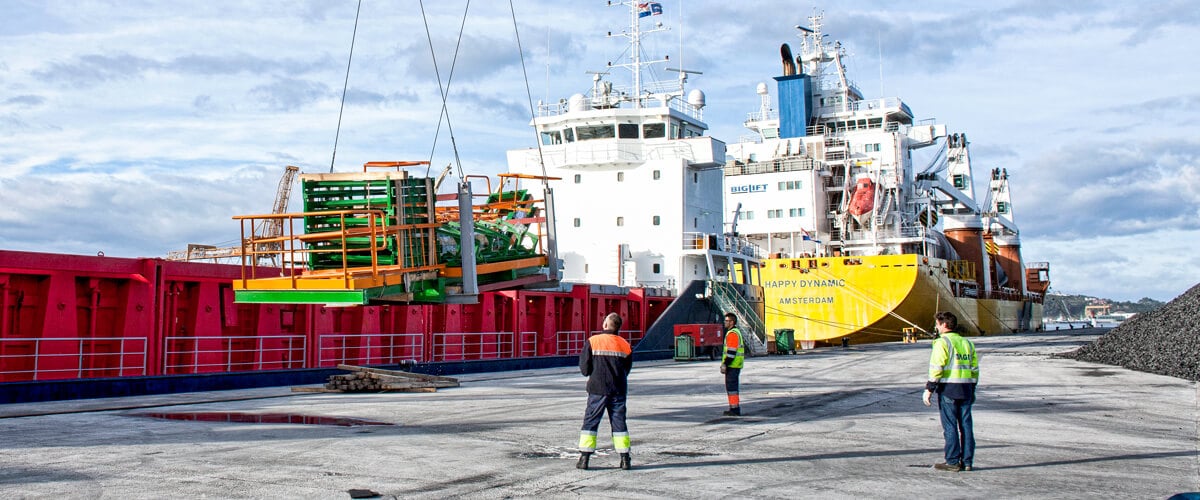 Maritime Project Cargo
Project Cargo refers to those logistic operations in which the cargo has an excessive size or volume that cannot be divided into smaller pieces and inserted in standard shipping containers.
Due to this characteristic, oversized cargo requires a dedicated system for its transport. In this aspect, Project Cargo by sea uses only specific vessels to transport these cargoes.
For this type of specialised service, it is necessary to hire cargo ships with large spaces and uncovered holds where the goods will be placed.
This service is mainly designed for indivisible goods of large volume and size such as oil machinery, wind turbine blades, structural steel parts or large engines.
Maritime Breakbulk cargo
On the other hand, this mode of cargo transport, also known as break bulk or bulk transport, involves the transport of split goods, like minerals, but in high volume.
When transporting such large quantities, the use of sea containers is avoided, as the loading and unloading costs would be too high, and the full or partial chartering of a cargo ship is chosen for this operation.
Break Bulk cargoes can travel in boxes, drums, barrels, drums or unit loads attached to pallets. These are usually loaded at the seaport by accessing the vessel directly by roll-on/roll-off transport or by the use of forklift trucks.
To optimise loading and unloading times, vessels specialising in this type of operation are equipped with cranes capable of lifting large amounts of weight.
This type of project involves goods such as generators, construction equipment and other items that are disassembled into different pieces when transported and then reassembled on arrival at the destination.

Bulk transport by sea
If, on the other hand, the goods arrive at the port in bulk and without palletisation, loading is carried out using cranes with hydraulic grapples.
This type of goods requires a great deal of logistical coordination, as the goods are normally transported to the port shortly after extraction, loaded as soon as possible and sailed to the port of destination in the shortest possible time, so that the goods suffer as little as possible.
For any kind of special cargo logistics operation, it is necessary to have a thorough knowledge of the goods being transported, both at origin and destination.

Because of the complicated nature of special cargo logistics, manufacturers and wholesalers of oversized goods choose the specialist agents of Grupo Marítima Sureste to carry out these operations.
Our agents are at your disposal to support you in the planning of the operation, execute and supervise the logistical measures necessary for the transport of your cargo.
Sea Project Cargo
Designing logistics solutions for industrial projects requires flexibility, specific knowledge, a lot of experience and a real passion for finding solutions to the challenges that arise.
At Grupo Marítima Sureste we are experts in all the logistics operations involved in a complete sea project cargo from start to finish.
We provide our clients with the right vessel for special cargoes by coordinating a comprehensive logistics service, which includes collection of the cargo at origin, storage, dispatch and administrative management of the entire transport process.