The most economical international transport of goods
If delivery time is not a determining factor when importing or exporting your products, container shipping is undoubtedly your best option.
You will benefit from a much lower cost compared to other means of intercontinental transport, and with the option of having at your disposal many types of shipping containers that will give you the flexibility to move all types of goods.
At Grupo Marítima Sureste you will find all the necessary services for the international transport of goods in shipping containers, from the loading or transhipment of goods to customs services, including the land transport of the containers with the cargo.
Our long experience in the industry will simplify all your processes. All we need to know is origin, destination and type of goods.
Containerised sea freight is currently the most widely used mode of international trade.
This type of transport by sea offers greater advantages for frequent shipment of common goods, with a cheaper price or a great flexibility in the type of cargo, if we compare it with other modes of transport of goods.
By specifying that this service is carried out in shipping containers, we mean that the goods travel in large containers.
These dimensions are defined by an ISO standard and are the same all over the world, which makes them easy to stack and connect with different types of vehicles so that they can later travel in other modes, such as road or rail.
Inside the shipping containers, the goods travel packed, in big bags, on boards or palletised, so that the interior space is better utilised and the goods are protected from damage.

Modalities of containerised maritime transport
There are two types of sea container transport known as full container shipment (FCL: Full Container Load) or sea groupage (LCL: Less than Container Load).
Full container transport
As its name indicates, a full container shipment is one in which the cargo belongs to the same seller and is moved using the space exclusively, without sharing it with other cargo.
To be an FCL it is not necessary for the cargo to occupy the entire available volume, it simply means that the container is reserved entirely for the company that has contracted the transport service.
Sea groupage
On the other hand, a maritime groupage, or LCL for "Less than Container Load", is the modality in which the shipment is loaded in the same container together with the goods of other sellers.
For this reason, this mode is also called "shared container".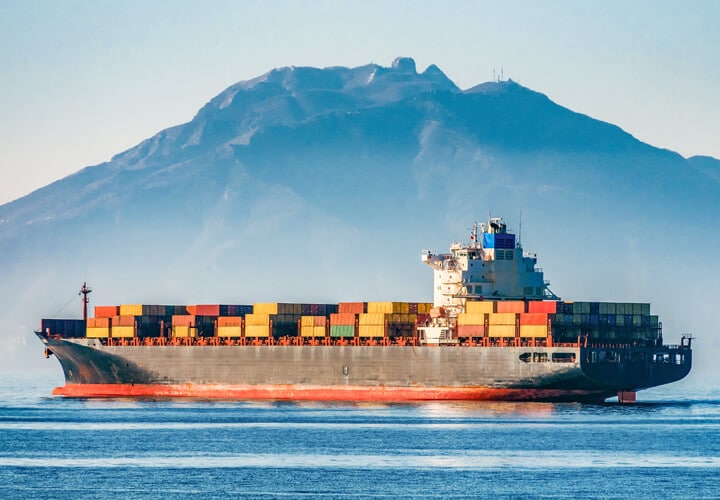 Which type of shipping should I choose? FCL or LCL
These modes have four essential aspects that you must take into account when choosing:
Volume of the goods. This refers to the amount of cargo you will import or export. Most of the time this is the decisive factor in deciding between FCL or LCL service.
Cargo security. In case you want to maximise the level of security assigned to your sea container shipment. The less transhipment and handling by intermediate agents, the more you can ensure the integrity of the goods.
Shipping costs. The price of the transport service can also be a determining factor in deciding between FCL or LCL if the cargo is not sufficiently bulky. However, there is a small range in which the cost difference between FCL and LCL is minimal.
Urgency. The time required to get your cargo to its destination in the best possible time is the last of the determining factors. Although we always recommend that you plan ahead for your shipment, you may be required to ship as quickly as possible due to exigencies.

Differences between LCL and FCL
Having considered these aspects, let's now look at which of them stands out on each point:
| | | |
| --- | --- | --- |
| Differences | Less than Container Load (LCL) | Full Container Load (FCL) |
| Shipping volume | Best choice for loads between 2m³ and 13 m³. Rarely is a shipment of less than 2 m³ cost-effective. | This option is most economical when the goods exceed 10 standard pallets, 11 European pallets or 14 m³. |
| Load security | Recommended for sturdy or compact goods that can be handled without much trouble. | The goods travel with the container sealed from the point of origin to the destination. This is your option if you are looking for a more secure shipment. |
| Cost of transport | The rates for LCL services are more stable compared to the FCL service. | Considering the volume available, prices are cheaper, but rates fluctuate much more than LCL. |
| Delivery times | LCL works with longer transport periods, and delivery dates are not always guaranteed. | Recommended for time-sensitive shipments or shipments that must be at destination by a stipulated date. |
If you wish to send goods by sea container, regardless of the volume of the goods, Grupo Marítima Sureste offers you a complete catalogue of sea freight services.
Call us and our agents will help you define the best strategy for shipping your products.
Types of shipping containers
There are currently many different types of shipping container, each type specialising in transporting a different type of cargo:
DRY VAN containers
These containers are considered standard and are completely closed on all 6 sides to protect the goods from the outside elements. They do not have refrigeration or ventilation.
They are the most commonly used containers for container shipping because they are suitable for almost all types of solid, non-refrigerated and dry goods.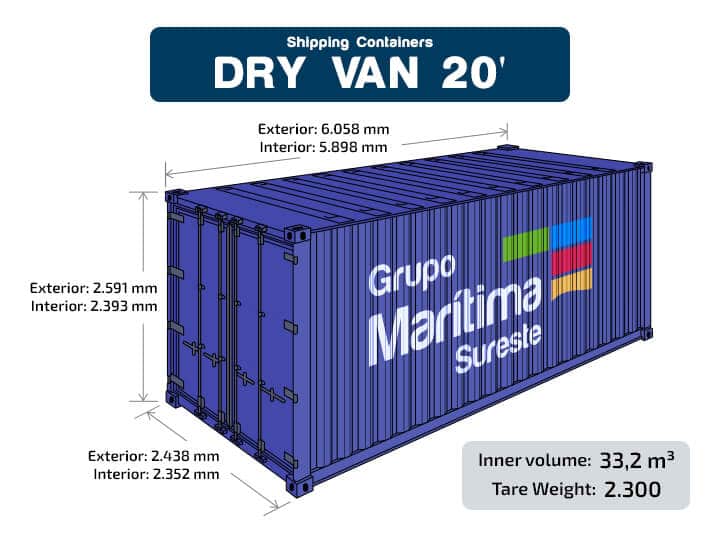 The most commonly used models are 20 feet (6.1 metres), 40 feet (12.2 metres) or 45 feet (13.7 metres) although there are also 10 feet and 30 feet but they are hardly used.
Their height is standardised and is 2.59 metres high.
The 20-foot container can carry up to 24.8 tonnes or 33.2 m³. The 40-foot container can carry 28.8 tonnes or 67.7 m³. Finally, the 45-foot container has a capacity of 76 m³.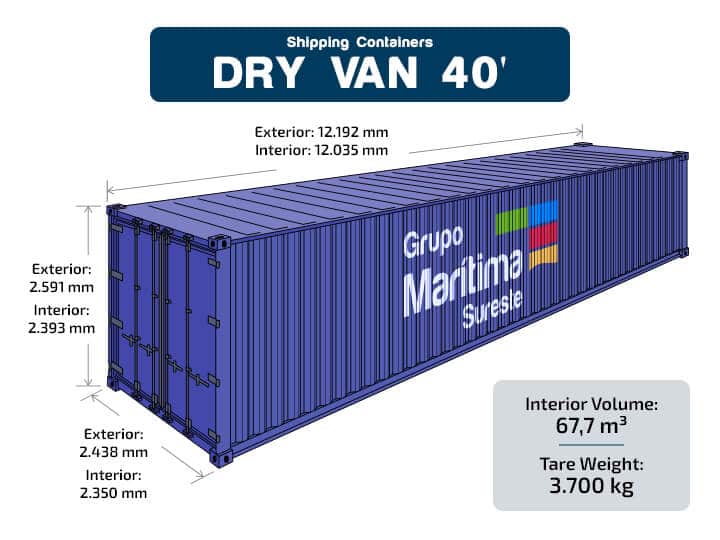 HIGH CUBE Containers
These containers are the same as the DRY VAN except that they are 30 centimetres higher, reaching 30 centimetres, and are available in 40 and 45 feet (13.7 metres). They are rarely seen, but in some countries they are also available in 20 feet in length.
The external height of these containers is 2.9 metres.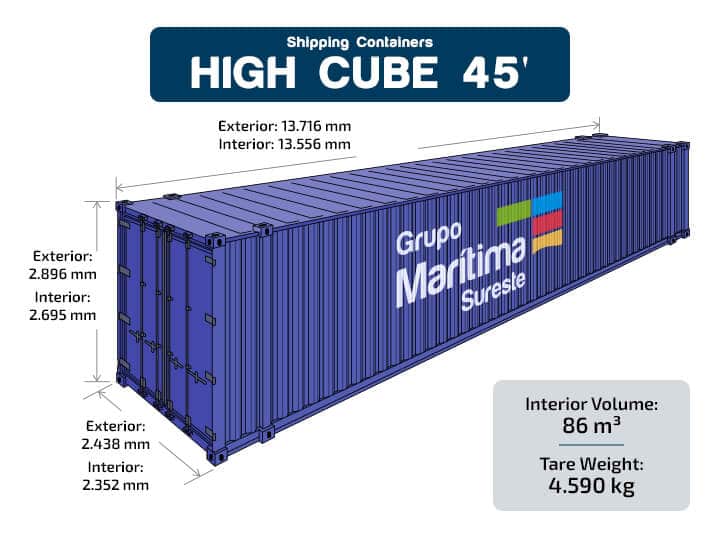 REEFER Containers
These refrigerated containers are specially made for transporting foodstuffs, perishable goods or products that need to maintain a stable temperature throughout the journey, such as some medicines.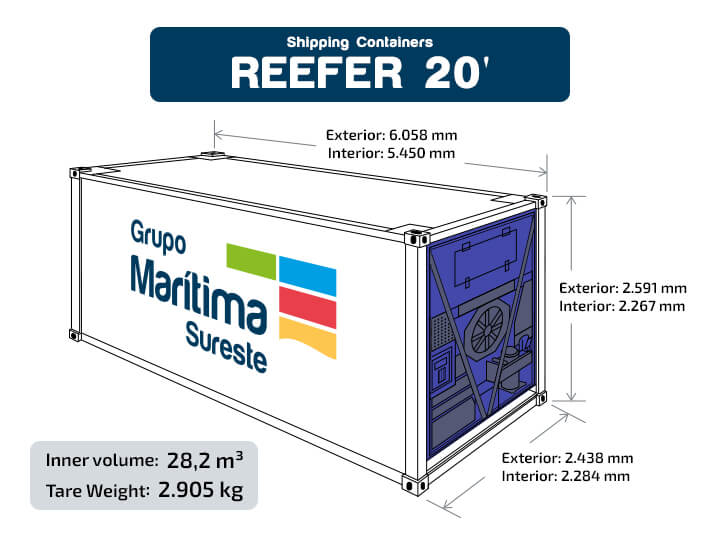 The models available for this type of container are:
20ft Reefer
40 feet Reefer
40ft High Cube Reefer
45 feet High Cube Reefer
The outer dimensions are the same as the non-refrigerated containers of the same designation.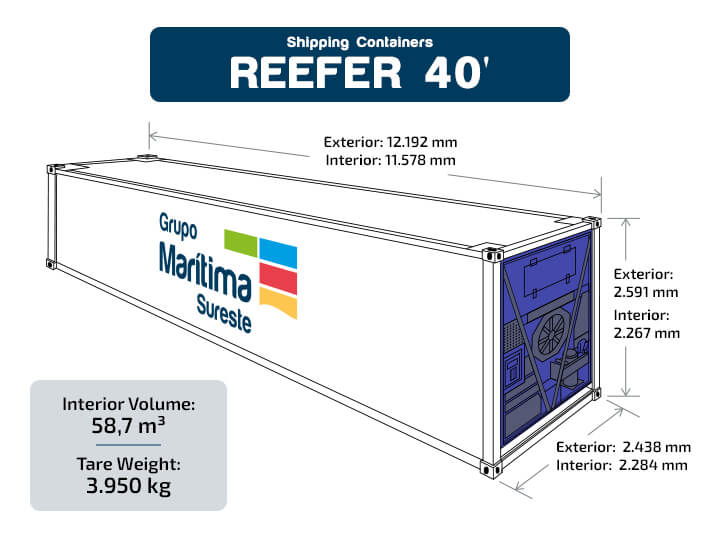 OPEN TOP containers
These containers have the same dimensions as the standard containers, but their main difference with the previous models is that the top is movable, which is an advantage for loading from above or even for the goods to protrude during transport.
They are often used for large goods that are difficult to load through the doors of standard containers.
FLAT RACK containers
These containers are characterised by the fact that they are open on 3 sides, keeping only the lower part and the walls at the far ends.
They are used to move unusually shaped or oversized goods that cannot be loaded from the top, such as heavy machinery or aircraft fuselages.
There are two models of Flat Rack, those with fixed sides or those with folding sides. They are available in 20ft and 40ft lengths.
The FLAT RACK models with folding sides are called COLLAPSIBLE FLAT RACK.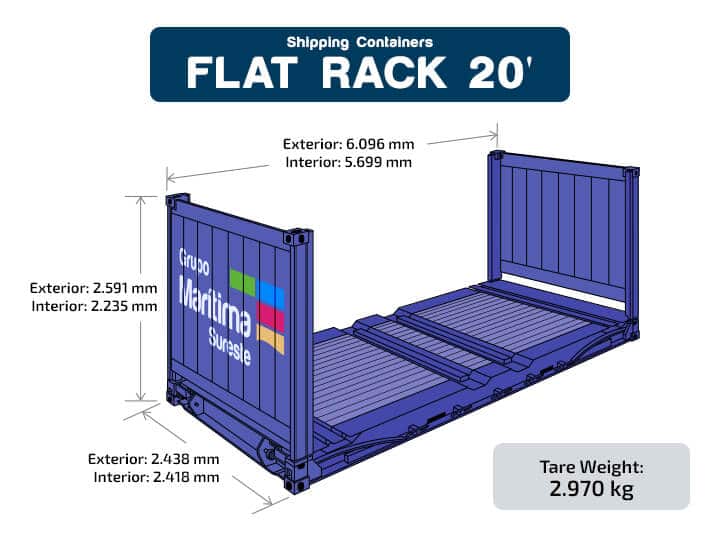 OPEN SIDE containers
As with the Open Top, the Open Side are containers that are open on one side. In this case, the difference is that the Open Side opens on one of its longer sides.
These containers are also available as DOUBLE DOOR, which gives access to the interior from both sides.
Livestock Containers
The livestock container is mainly used for the transport of live animals, although it is also used for the transport of construction materials and steel products.
It is a non-sealed, highly ventilated container with openings on all sides.
Within Spain, they are widely used for transport between the mainland and the Canary Islands.
They are available in 20 and 40 foot lengths.
Their height can vary, with cage containers ranging in height from 0.65 metres, equivalent to a quarter of the normal height, up to the height of a high cube: 2.9 metres.
Platform containers
These units, rather than containers, are merely flat platforms, as they have no sides or roof, with only the lower part of the container remaining.
They are mainly used for the shipment of oversized goods that do not fit in any of the containers mentioned above.
They are available in 20 and 40 feet.
PALLET WIDE containers
These containers are the same as the DRY VAN containers but 11 centimetres wider, so that two europallets can fit inside them.
In this way, a total of 30 Euro pallets can be loaded in a 40-foot container instead of the 25 that fit in a standard container.
They are available in 20 and 40 feet, with the heights of a DRY VAN or a HIGH CUBE.
BULK CONTAINERS
This type of shipping container is also known as a BULK container and is mainly used for the shipment of bulk goods such as minerals, cereals, animal feed and spices.
With a few exceptions, this container is available in 20 feet, 6 metres, in length.
In appearance, many people compare them to a lego, as the top of the container has three cargo hatches, each with a diameter of 45 centimetres, spaced 1.8 metres apart.
For unloading, the container has one or two unloading hatches located at the bottom of the doors at one end.
TANK Containers
These tanks are equipped with a cylindrical polyethylene tank. This type of container has, instead of faces, edges that are structural beams. The volumetric result is similar to that of a shipping container, which allows it to be stacked and transported easily.
This container is mainly used to move bulk liquids and dangerous goods.
Its dimensions are very similar to those of a standard container. The most common tanks are those whose external dimensions are equivalent to those of a 20-foot container and their interior volume ranges from 10,000 to 26,000 litres.
There are also those known as SWAP BODY, in which the tank is slightly larger than the orthogonal structure and its capacity is between 30,000 and 37,000 litres.
Flexitank
The flexitank is a flexible container or tank (hence the name) that fits inside the shipping container in which it is mounted and is used for the transport of liquids and bulk cargo.
Although there are a few models for 40-foot containers on the market, the standard and most commercially available size is that which is mounted on a 20-foot DRY VAN shipping container and its capacity ranges from 16,000 to 24,000 litres.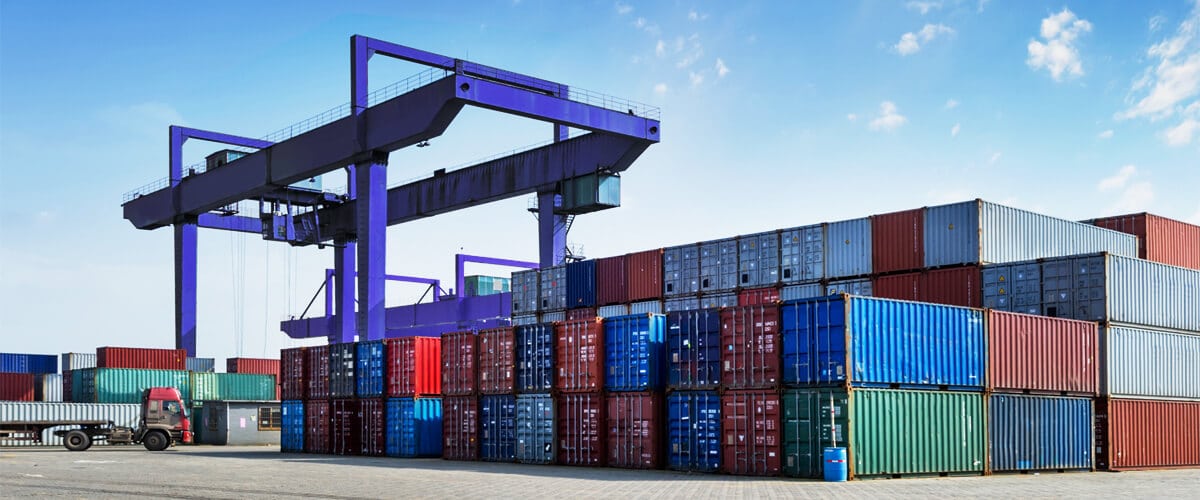 What is a TEU?
TEU is an acronym for Twenty-foot Equivalent Unit and stands for twenty-foot equivalent unit.
When TEUs are referred to in shipping, they refer to a volume equivalent to the number of standard 20-foot shipping containers.
For example, a 40-foot container would be equivalent to two TEUs.
This unit of measurement is mainly used to measure the turnover of a company or the number of units transported by a shipping line or that have passed through a seaport of goods.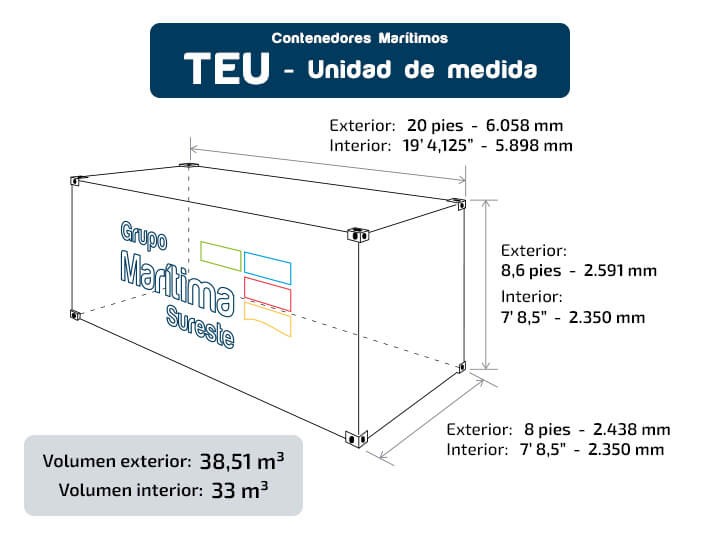 External TEU measures of a shipping container
| | | |
| --- | --- | --- |
| | Metres | Feet/Inches |
| Outer ISO height | 2,591 m. | 8′ 6″ |
| Outer ISO length | 6,058 m. | 19′ 10,5″ |
| Outer ISO width | 2,438 m. | 8″ |
Minimum internal TEU dimensions of a shipping container
| | | |
| --- | --- | --- |
| | Metres | Feet/Inches |
| Minimum internal height | 2,350 m. | 7′ 8,5″ |
| Minimum internal length | 5,898 m. | 19′ 4,125″ |
| Minimum internal width | 2,350 m. | 7′ 8,5″ |
For those Spanish companies that import or export goods, at Grupo Marítima Sureste you will find the logistics partner specialised in shipping containers from or to any country.
Ask us for a quote, it won't take you more than a minute.