Buy or rent used Shipping Containers
Buy or rent used shipping containers
Do you need extra storage space on your property? Do you want to set up or expand a business and are looking for quick construction options?
Used shipping containers have become one of the options for building outdoor space economically.
It's a quick solution for building tool sheds, homes, offices, restaurants, businesses in public places, gyms and even swimming pools.
If you would like to come and see the containers we have available at our container depot facilities, request an appointment and an agent will accompany you on the visit.
For the last few decades, shipping containers for the transport of goods have found a second life as a construction material due to their versatility and self-supporting structural capacity.
They are perfect for building homes inside them, for setting up shops or for developing the project you have in mind, or simply for storage in solar farms.
In short, they are the best solution to materialise your idea.
Given their short life in the world of building, homes and spaces made with shipping containers are still considered to be modern constructions, with a high versatility, and with the capacity to find solutions for each project.
By reusing shipping containers you can create magnificent annexes to extend your premises or home without having to invest a lot of money and time in renovation. You only need to prepare the land where the container will be located.
Also, as they are resistant, easy to transport and economical, the most common use given to these transport units is for storing tools in fields or as a tool room on building sites.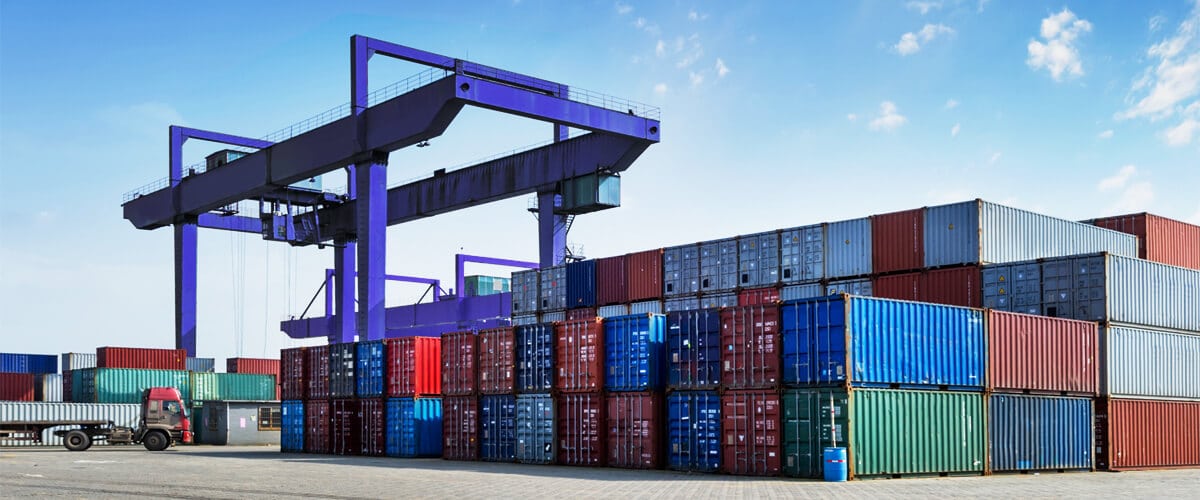 Price of a used shipping container
The price of a used sea container varies depending on the condition and dimensions of the container.
We have sea containers available, both 6 metres (12 feet) and 12 metres (40 feet), with normal width or pallet wide. These containers can be with or without a navigation plate.
If you would like to see the units available and obtain a specific quotation for the container you like, please request an appointment to visit our facilities.
How to Buy Shipping Containers
Are you interested in buying one, but you still don't know which model best suits your project?
At Grupo Marítimo Sureste we have a wide variety of shipping containers, so finding the one that best suits your project is as easy as coming to see them.
20′ DRY VAN containers
40′ DRY VAN containers
20′ PALLET WIDE containers
40-foot PALLET WIDE containers
20-foot REEFER containers
40-foot REEFER containers
HIGH CUBE 40-foot containers
40-foot PALLET WIDE HIGH CUBE Containers
45-foot PALLET WIDE HIGH CUBE containers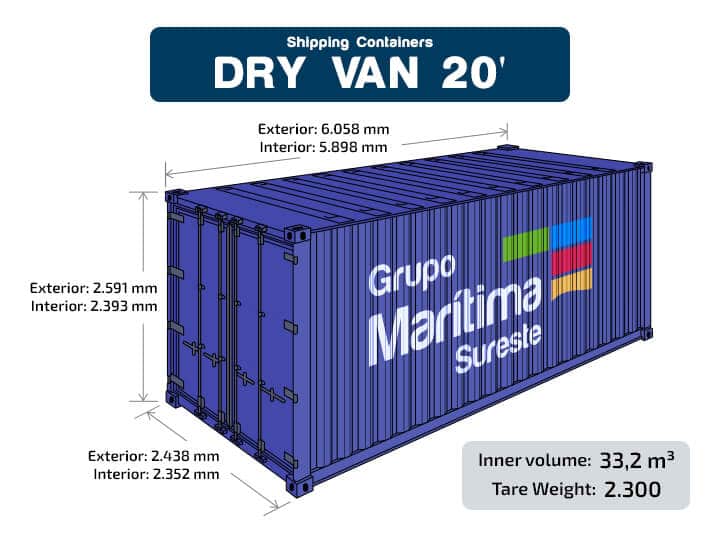 Dimensions of used shipping containers
The following table shows you the internal dimensions of the pre-owned containers we have available for sale.
| | | | |
| --- | --- | --- | --- |
| Type | Interior length | Interior width | Interior height |
| DRY VAN – 20' | 5,9 m. | 2,35 m. | 2,40 m. |
| DRY VAN – 40' | 12,03 m. | 2,35 m. | 2,40 m. |
| PALLET WIDE – 20' | 5,9 m. | 2,44 m. | 2,40 m. |
| PALLET WIDE – 40' | 12,03 m. | 2,44 m. | 2,40 m. |
| REEFER – 20' | 5,5 m. | 2,28 m. | 2,25 m. |
| REEFER – 40' | 11,57 m. | 2,28 m. | 2,25 m. |
| HIGH CUBE – 40' | 12,03 m. | 2,35 m. | 2,70 m. |
| PALLET WIDE HC – 40' | 12,03 m. | 2,44 m. | 2,70 m. |
| PALLET WIDE HC – 45' | 13,55 m. | 2,44 m. | 2,70 m. |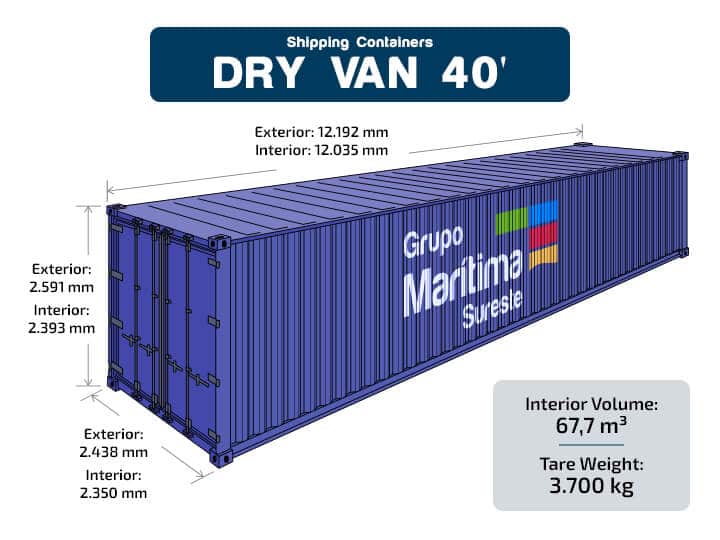 Supping Containers for building a House
Want to build your next house out of shipping containers?
This is a completely feasible and, in fact, quite modern option for building a home. All you need is a piece of land or property on which to place your container.
By purchasing a second-hand shipping container, in addition to reducing material costs, you will be contributing to the environment by reusing a container that is no longer being put to the use for which it was originally designed.
Before buying a used shipping container to build a house, we recommend you consider the following points:
Building plot
Before building any type of home, you will need to know what type of land it is for urban planning purposes: urban plot, rustic plot or land for tertiary use.
You can consult the cédula urbanística of the plot in the land registry to find out this information.
You should also know what the urban planning regulations are for that type of land, such as the maximum height, setback, buildability and occupation of the plot.
In this way you will confirm the possibilities of building on the land.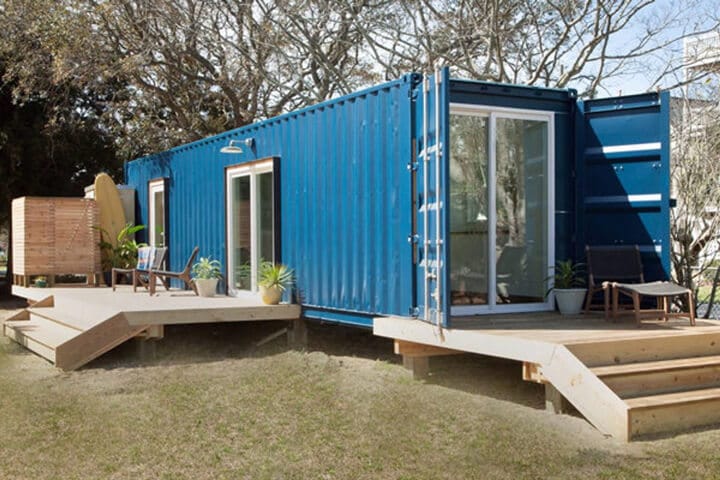 Condition of the land
Antes de proceder con el proyecto de obra y las licencias en el ayuntamiento, deberás Before proceeding with the building project and the licenses at the town hall, you should consider the quality of the land to know what type of substrate it is and the loads it can support. You will also need to consider the possibility of making changes to the slopes, including the possibility of excavation, in order to position the house ideally.
New construction project
TYou will have to ask an architect to draw up a housing project based on the available dimensions with the combination of one or more containers.
Application for a building permit
On the basis of this project you will have to submit the necessary documentation to the town hall and pay the corresponding licence fees. After a period of time, you will be granted the building permit, and then you will be able to install the house on the plot.
As soon as you have all the above requirements, you can start to develop the building project that the architect has previously drawn up.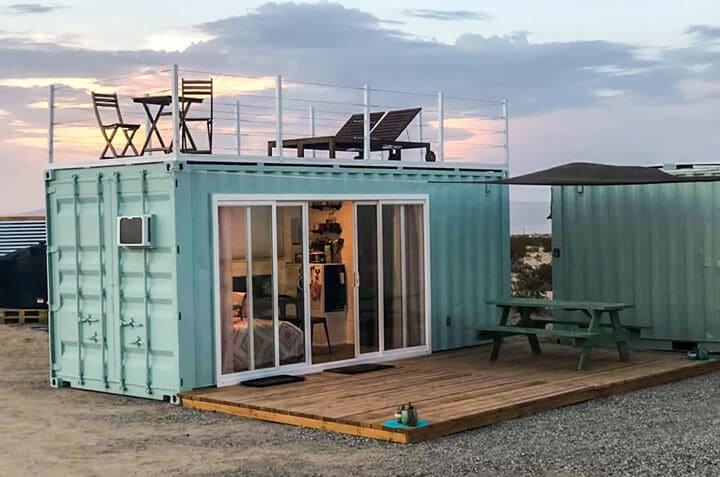 Indoor shipping containers
Often shipping containers are also used for interior architecture or to create smaller partitions within a larger construction.
Creative constructions
The option of interlocking two or more containers opens up a wide range of possibilities for creative constructions.
Experimenting with shapes and heights, adding windows, cladding both the exterior and interior with other materials (such as wood), among many other possibilities.
The diversity of construction uses and possibilities offered by shipping containers is so extensive that you will spend hours researching and looking at ideas for your future home.
Are you looking for a company with immediate availability to sell second-hand shipping containers?
In the container depot of Grupo Marítima Sureste you will find a wide variety of pre-owned and used containers available for immediate purchase.