With daily departures to any continent, the availability of urgent transport of any type of goods becomes a reality.
With Grupo Marítima Sureste you can plan in a very short time the urgent shipment of your products to any country, with the security of a door to door service and the speed of airfreight transport.
In our catalogue of air services we offer you:
General transport of goods by air.
Express transport: onboard courier or express delivery service.
Full or partial charter, synonymous with chartering in air transport.
Air transport of dangerous goods DGR.
The fastest international freight transport
When it comes to urgent shipments of goods, air transport stands out ahead of the other alternatives.
Moreover, if you contract this service with us, you will see how the times and procedures are reduced even further thanks to our Authorised Economic Operator certification.
At Grupo Marítima Sureste we have been working for more than 40 years with the main aviation companies to guarantee our clients a fast, competitive and quick solution with an excellent service.
Do you need to request a quote for your next shipment? Our specialised agents are available to help you.
Modalities of airfreight transport
Several modes of air freight transport make it a unique and efficient alternative for moving cargo over long distances in record time:
Air charter: full or partial
Do you need to move large batches of materials or products? We will locate and charter the perfect cargo aircraft to ship your goods to any airport in the world.
Hand Carrier / Onboard Courier (Express)
If in your case, you need to send delicate cargo, valuable material or important documents, under tight time constraints, you can rely on our Hand Carrier delivery service with a dedicated agent to deliver the package safely.
Door to Door
In a Door to Door service we focus on efficient logistics in which we guarantee all customs paperwork and measures necessary for a successful journey from the point of collection to the point of delivery.
Dangerous Goods Transport (DGR)
In compliance with the requirements of the IATA Dangerous Goods Regulations, we offer you the service of shipping dangerous goods, provided that the products you wish to ship are not classified as prohibited.
Triangular operations (Cross Trade)
In international movements of goods in which there are more than two parties involved (each in their own country), we take care of loading at origin and unloading at destination, without passing through the intermediary's country and maintaining the privacy of the operation.

What is airfreight transport?
Air transport, also known as transport by air or by plane, is a service that had its beginnings in the twentieth century with the intention of moving people, later became a very good option for transporting cargo.
The main reason is that it has a good load capacity and its range, in addition to being very wide, is the fastest of all, reaching any airport in the world with minimum delivery times and reducing accidents to a minimum.
For this reason, the demand for this service at a global and national level is extremely high, thanks to its reliability and versatility.
Air transport service on a charter basis, either for all or part of the cargo space.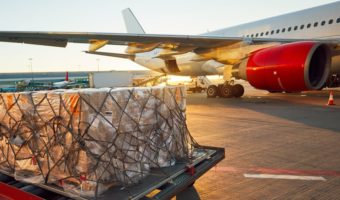 Air express and On Board Courier are two of the most specialised services for urgently shipping goods internationally.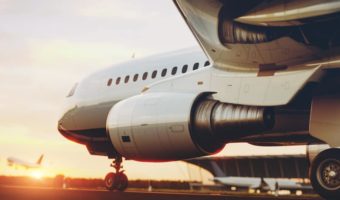 Advantages and disadvantages of air freight
Like all types of transport, this method of shipping goods has a series of advantages and disadvantages, which we will now mention.
Advantages of airfreight transport
Let's start with the advantages:
Fast shipping: it is the fastest transport in the world by far, ideal for urgent shipments or with a delivery period shorter than that of a ship or a truck in international transport.
No limitations: the route marked for the journey is not interrupted by physical elements such as mountains, seas, forests or a bad road. You simply determine the route to follow from a series of predefined routes between airports and the journey begins.
Reliability: it is the safest mode of transport in that loss or damage to goods en route tends to be completely nil. In addition, the accident rate is also very low, as the external factors present in most transport accidents do not exist in air transport.
Accessible: this means of transport has the capacity to reach directly where sea or land transport cannot, crossing land and sea at the same time.
Immediacy: another point in favour of aeroplanes is that they can carry specific cargo in a quick and agile way, such as high-value or perishable products, without spending a long period of their useful life on the journey.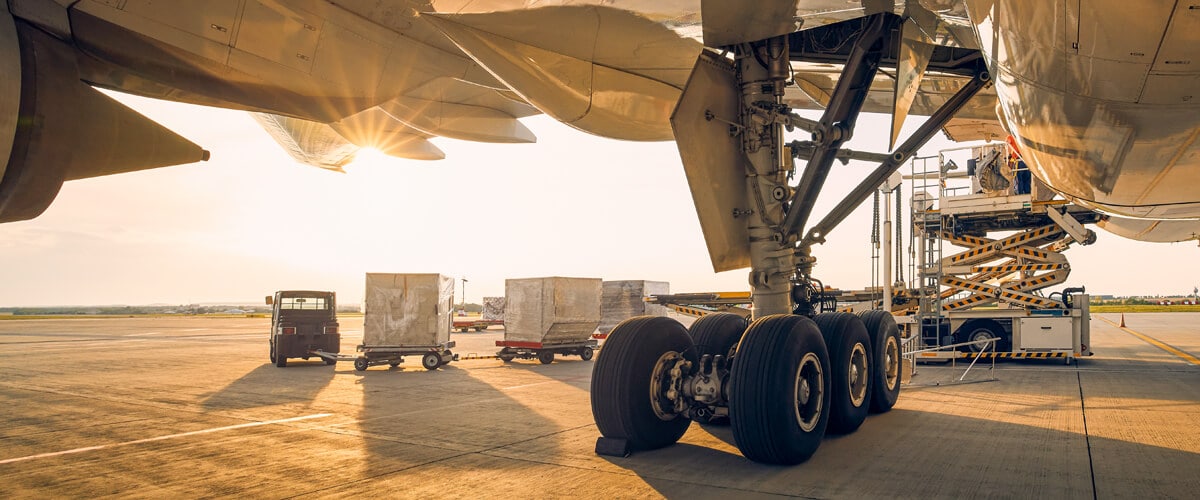 Disadvantages of airfreight transport
Let's continue with the disadvantages:
It is the most expensive transport: compared to land and sea transport.
Permits and paperwork: all the legality and bureaucracy that exists around air transport and international shipments can be a pain if you do not have the knowledge or experience in this type of operation.
Weather conditions: the take-off of an aircraft depends a lot on environmental conditions. Storms, fog or snow are a clear example of an impediment.
Not recommended for some products: it is a type of transport that makes the final price of the product much more expensive, therefore it is not recommended for products with a large volume, due to space limitations inside the aircraft, or a very low price, as the impact on the final price would be excessive.
IATA: International Air Transport Association
IATA is a trade association used to promote cooperation, safety, security, security and economic benefits among airlines in air transport.
All airlines are eligible to join the International Air Transport Association as long as they carry out international air transport services, regardless of whether they are scheduled or non-scheduled.
Carriers engaged only in domestic transport may join, but are not eligible to vote.

IATA's priorities
Among the main priorities for which IATA exists are:
Safety and reliability: this is the top priority. Through the IATA Operational Safety Audit (IOSA) it works to reduce global air accidents.
Safety and security: using the Checkpoint of the Future to analyse and differentiate passengers from a possible risk of attack inside aircraft, in addition to protection at airports.
Care for the environment: through annual agreements to reduce factors that harm the environment, such as improving fuel efficiency or reducing net CO2 emissions.
Other modes of freight transport
In the transport of goods, opting for air transport is sometimes not the best option, especially for national or international journeys that are not urgent.
Grupo Marítima Sureste can advise you and study your case to choose the best route and mode of transport that best suits your operations.
You can also find more information about alternatives to air transport here: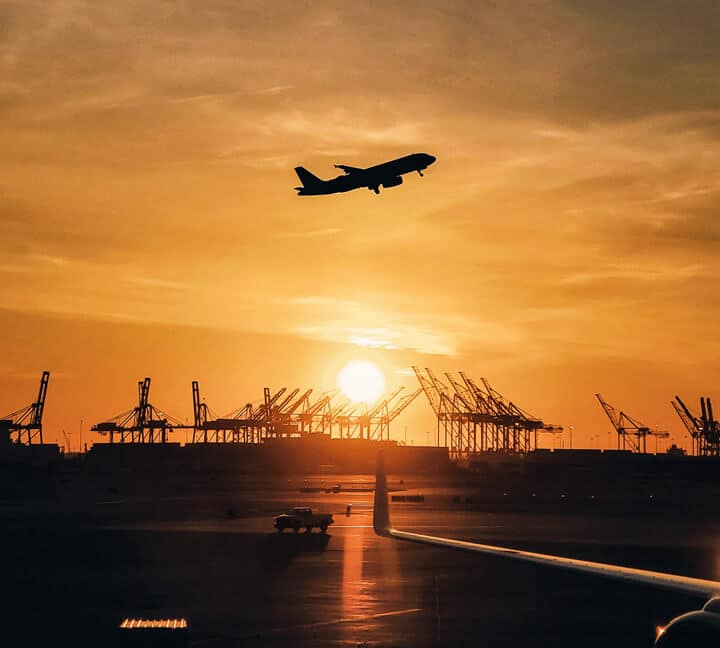 Aircrafts used for airfreight transport
The choice of the means of transport to be used for an operation is defined according to the type of cargo. Based on this distinction we have:
Supercarriers
These models are built to move an average of more than 120 tonnes without any problems.
In addition, as the cargo area is located above or below the cabin, the cargo can occupy the entire length of the aircraft and for this reason it is the option of choice for the transport of oversized cargo.
Two models of supercarriers are the Airbus A300-600ST Beluga or the Antonov An-225 Mriya.
Cargo aircraft
These are designed for the transport of goods and general cargo. The aircraft itself is designed exclusively for cargo transport and has hardly any cabin space for passengers, increasing its cargo capacity to almost 40 pallets or 110 tonnes.
Two models of this type of cargo aircraft are the Boeing 747-400ERF or the Boeing 747 F Freighter.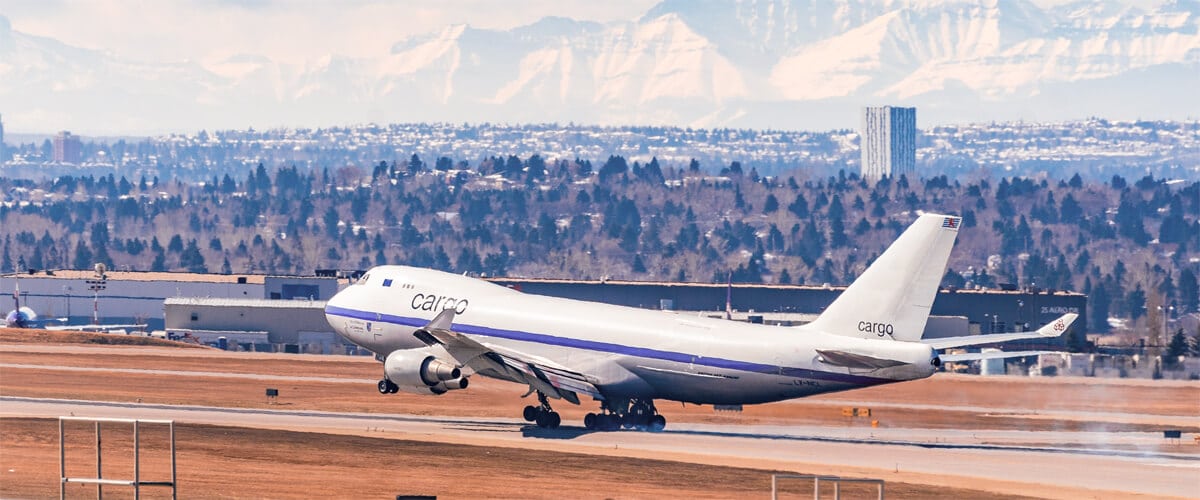 Mixed or tourist aircraft
This type of transport is the most common. They are suitable for carrying both passengers and small cargo in the lower hold. The capacity range varies according to the aircraft model with a range of 2 to 16 tonnes.
In this type of aircraft, cargo may not exceed 1.6 metres in height.
History and evolution of air transport
One of man's most ambitious dreams has always been to be able to fly like birds. This ambition has led many people in history to try their hand at it.
The first attempts began in the 18th century, trying lighter-than-air balloons until the creation of the hot air balloon and the dirigible.
In the 20th century a great international interest was generated by the first aeroplanes that managed to fly over the skies, such as the Wright brothers' aeroplane in 1903 and Traian Vuia's three years later.

Birth of air freight transport
Air freight had its great moment in 1958 with the inauguration of the jet aircraft for commercial purposes by American and British airlines.
However, in commercial matters, the greatest achievement in the aviation sector was the inauguration of the first Boeing 747 in 1970, an aircraft capable of carrying between 360 and 500 passengers, excluding cargo, on scheduled flights of more than 10,000km.
Over the years, and with the growing desire to meet economic demand, more and more modern aircraft, specialising exclusively in cargo, developed into what we know today.
We work with leading airlines to offer you an air freight service, combined with last mile distribution to provide a door-to-door service.
Cost-effective, reliable and flexible solutions. From urgent shipments of less than three days to full air charter.
Request a quote now with the details of your shipment, country of origin and destination, and our agents will attend to you as soon as possible.