Grupo Marítima Sureste's Head Office
Grupo Marítima Sureste was founded at the end of the 70s as a small family business, mainly carrying out maritime and land transport operations.
Over the years it established itself as an Integral Logistics Operator, adding air transport, customs services and logistics and storage services to its portfolio of services.
In 2006 the company changed the location of its headquarters, formerly located on the northern ring road of the capital of Murcia, and moved to its current location, El Estrecho de Fuente Álamo, on the Lobosillo road.
Address
Ctra. Lobosillo s/n, 30332
Estrecho de Fuente Álamo, Murcia
GPS coordinates:
37° 43′ 54.8436" N
1° 6′ 23.706" W
Opening hours
Monday to Friday
8:30 to 14:00 – 16:00 to 19:00
Freight transport services in Murcia
At Grupo Marítima Sureste we have been carrying out freight transport operations by sea, air, rail and road for more than 45 years.
Both nationally and internationally by road, in the form of Full Truck Load (FTL) for all types of goods.
Operating in the main ports of the world, we offer our services for the transport of any type of goods.
We are part of an international network of air agents that allows us to transport goods from any airport.
We are authorised to transport, load, unload, pack and store Dangerous Goods.
We provide the appropriate means of transport for special loads, coordinating a comprehensive logistics service.
Groupage of national goods
Transport of all types of goods in groupage mode (LTL) to the entire peninsular territory.
Policy of continuous improvement
Initially, the company had small offices and a modest warehouse at this location. Years later, and with the growth of the company, the spaces provided for the storage of goods, both in the warehouse and outside, were multiplied.
In 2009, these premises obtained ISO 9.001 quality certification and ISO 14.001 environmental certification.
In 2017, one of the storage spaces for dangerous goods and chemical products was enabled, with APQ1 and APQ10 authorisations.
In 2019, and with the company's certification as Authorised Economic Operators, this site began to offer customs representation services, and with it services such as centralised clearance or customs warehousing, enabling spaces as a Temporary Deposit Warehouse ADT for imports and as an Authorised Premises for Export Goods LAME.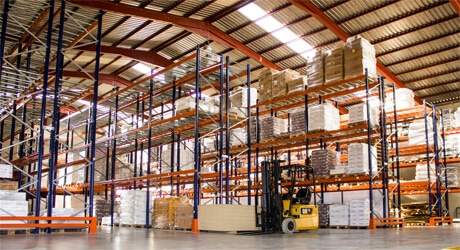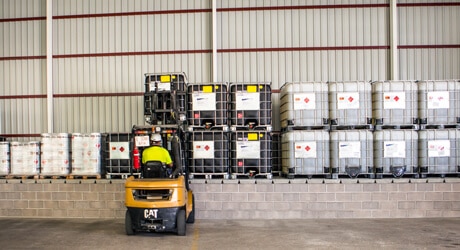 Logistics, storage and distribution services
Grupo Marítima Sureste is committed to offering its clients a totally personalised service of storage, order preparation and distribution of all types of goods.
Storage spaces, both indoor and outdoor warehouses, for all types of goods.
Palletisation of goods, preparation of orders for distribution and stock control.
Distribution of orders and parcels
Delivery of products and parcels in both last mile and national and international modes.
From our facilities in Murcia we provide logistics services to the main online shops in the Region.
Transhipment of goods
Handling and exchange of goods between different types of transport. Cross-docking for orders without storage.
We have facilities that comply with the requirements of the regulations for the storage of chemical products.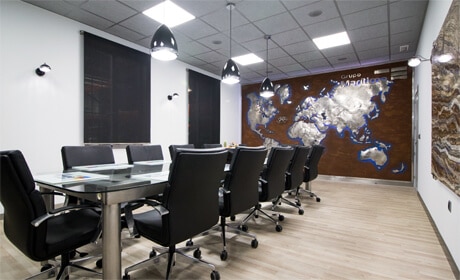 Other information of interest
The central offices of Grupo Marítima Sureste are located 30 km. from the port of Cartagena for all the necessary management with the shipping companies.
It is also 18 km. from the airport of the Region of Murcia (RMU) located in the town of Corvera.
We are located just 2 km from the Fuente Álamo Technology Park.
As an international reference, we are located 7 km from the SABIC industrial complex located in La Aljorra.
Customs Services in Cartagena and Murcia
Grupo Marítima Sureste has in its team experienced customs representatives (with A.D.T. and L.A.M.E. qualifications) who carry out all the legal and fiscal procedures necessary for the clearance of your goods.
Our status as Authorised Economic Operator (A.E.O.F.) benefits the customs clearance of our clients.
We have a temporary bonded warehouse facility for non-cleared import goods.
We have a facility for on-site customs control of export goods.
Our other locations
Come and visit our offices and branches to see what we can do for you.
Provincial branch in Alicante of Grupo Marítima Sureste with service throughout the Valencian Community.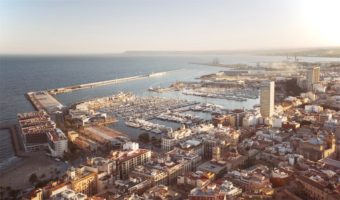 Shipping container depot and outdoor storage of freight in Campo de Cartagena, Murcia, Spain.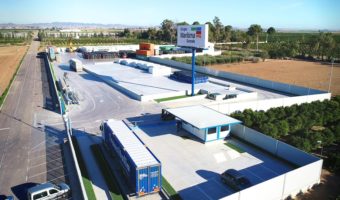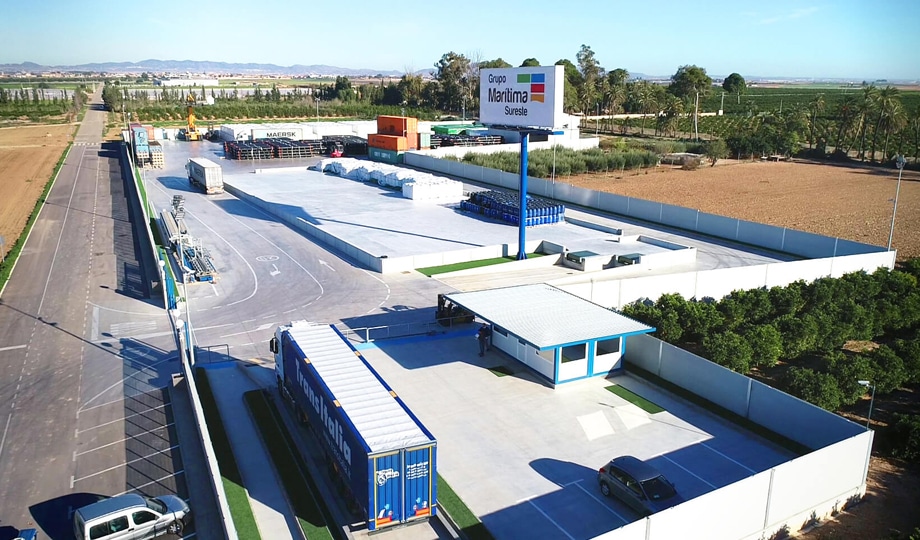 Logistics warehouse located in the Nonduermas intermodal freight station in Murcia.